fancy dress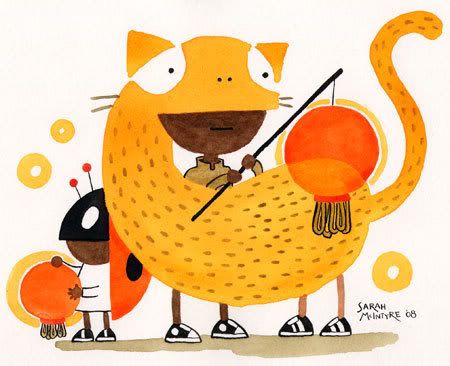 Here's an experimental little painting I made this morning, trying to get away from always using black outlines for everything. (It's very much inspired by Hayao Miyazaki films.)
Artwork: I'm selling this painting for £40 + £5 registered mail postage (a little bit more for postage if you live outside the UK). Image is 16x13cm.
Edit: image sold
Opening the post yesterday was great fun; Marc Ellerby (burnt_jamb) sent this Vern and Lettuce painting!:
And I got three beautiful books: Marc's comic, Ellerbisms, Volume 2. My favourite lines so far:
American Girl: Oh my God, the way you eat! It's SOOOO British!
Marc: Huh? Why?
American Girl: You're using your KNIFE!
Marc: Well, how else am I s'pose to eat?
American Guy: With just your fork, dude. It's ONLY breakfast.
I know Americans eat differently, but thinking about it, he's right, we actually have different cutlery etiquette for different meals. And an American would never eat a pancake, a steak and a hamburger in the same way, while a Brit might. Hmm.
Teddy's reading The Babysitters Club: Claudia and Mean Janine by one of my favourite comic artists, Raina Telgemeier (goraina). I read it through once already and it's a ripping good read and so well drawn. I got so caught up in the story that I need to go back through it a second time to spend more time appreciating the artwork. I like all the teenage sister conflict, I could totally relate to that one. (My sister and I fought like cats.)


The other book is The Best American Comics, edited by Lynda Barry and two great artists I met through ellenlindner: Jessica Abel and her husband Matt Madden. I actually bought the book on the basis of the incredible cover painting by Eleanor Davis (squinkyelo). A quick flick through makes the book look like there's a very good chance it will live up to its cover and editors.
Illustrator and animator John Rowley just sent this photo of my drawing that he's framed in his house. Hooray, good to know my baby has a nice home.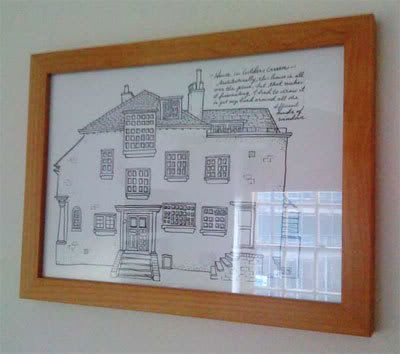 And I got this message from the dad of a DFC fan in Lincolnshire that made me very happy:
Thought you may like to see this. I captured this on my phone while sneaking around the corner when I came home from work on Friday pm. Sorry for the poor quality but can you see how he is concentrating!! Alex always disappears off somewhere to read The DFC. By chance and it really was, Alex was, on the Vern & Lettuce page.