etherington brothers and channel 5
Today was great, I got to spend most of the day in Oxford with the fab people in the DFC office, including Bob & Lorenzo Etherington of Blink Twice. We were interviewed by a presenter named Isla Traquair, and Bob and Lorenzo turned out to be total pros at being in front of a camera. Then Catherine the publicist, Lindsey in marketing and the Fickling brothers took us for a huge lunch before we lurched back the train, the Etherington brothers to Bristol and me to London. I got to check in with my lovely picture book editor, Hannah, and on the train back I got started on a comic I promised ages ago to ztoical for her anthololgy before I fell sound asleep because of my big lunch and woke up at Paddington station.
Here's Isla interviewing Lorenzo while he pretends to do work on-screen. He actually made a whole comic strip featuring Isla, which was way beyond the call of duty but very cool all the same. Lucky woman!

This is the DFC headquarters in the Fickling basement:

And here's Bob and me, proudly comparing our very last-century cell phones. (There were a lot of long silly pauses in the whole filming process.)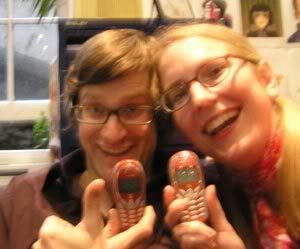 Catherine's going to get back to us about the TV times; she says it'll run on the news at 12;30, 3 and 5 either tomorrow (Thursday) or Friday. I don't actually own a telly, so someone please let me know how it went! …Only two more days until DFC take-off! 😀