etherington bros: when excess BAGGAGE is a good thing
Aaahh, what are those marvelous goodies in the window of Daunt Books???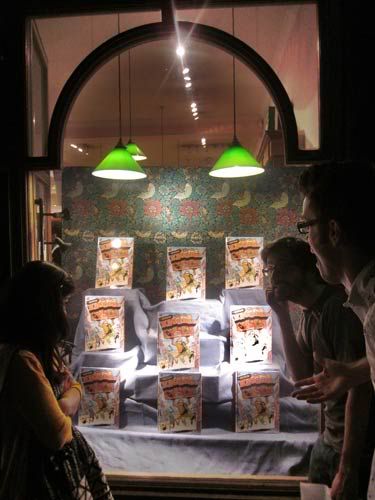 It's BAGGAGE, the Etherington Brothers' brand-new addition to the DFC Library series of AMAZING comics for kids, adults, aliens, cowboys, whoever craves pages full of lush story goodness. Here's writer Bob Etherington, our fab publisher David Fickling, and artist Lorenzo Etherington at their madcap launch on Thursday night in London.
Lookie, lookie, isn't it lovely? And at the party, we had not only The Brothers, but two other creators from about-to-be-launched DFC Library books! From the left, here's James Turner, David, John Aggs and The Bros.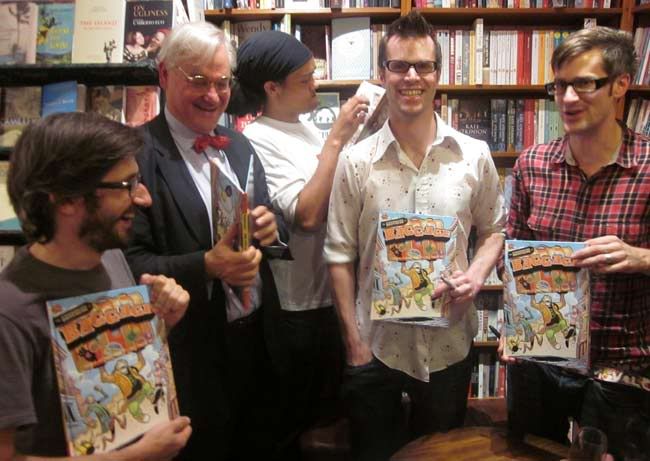 So let's have a little peek, shall we? (Am I allowed? Heh heh… apologies, these are merely snapshots, you can probably get *proper* scans from the publicists or artists themselves.) But a little peek, just for yoooou….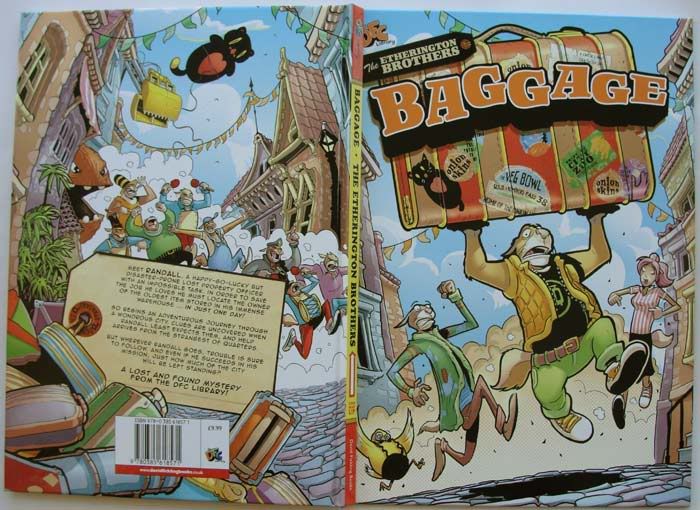 The back cover reads: Meet Randall, a happy-go-lucky but disaster-prone lost property officer with an impossible task. In order to save the job he loves he must locate the owner of the oldest item stored in his immense warehouse… in just one day!
So begins an adventurous journey through a wonderous city. Clues are uncovered when Randall leasts expects them, and help arrives from the strangest of quarters.
But whereever Randall goes, trouble is sure to follow. And even if he succeeds in his mission, just how much of the city will be left standing?
Oh, and would'ya look at this title page?! Beeyootiful.
Okay, and a sneaky little peek at the action-packed, highly caffeinated world inside those Etherington Brothers' heads.
Warning: book includes MASS DESTRUCTION.
Moving on to another of Thursday's party's very special guests! Here is the magnificent James Turner with his journalist partner Akanksha Awal.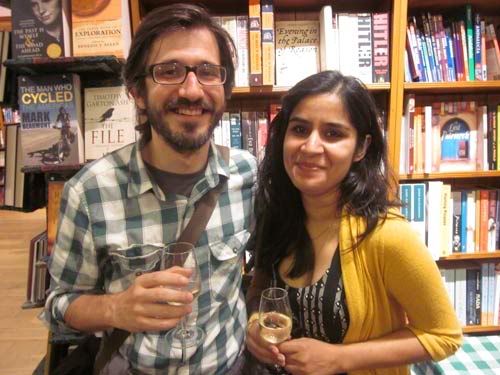 I've been waiting SO LONG for this book to come out. Do you remember these wacky little guys? They ran at the same time as my Vern and Lettuce in The Guardian, and I am a huge fan. James is possibly the funniest writer I know, and his drawings perfectly capture the spirit of the characters' banter.
Every book needs an exploding pirate ship.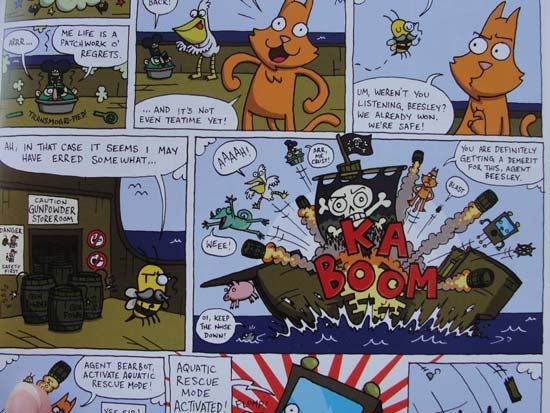 A cunning escape ruse… involving… pumice? Whaaa…? Ha ha ha…
And our next very special guest, John Aggs! Here is is with one of our fab DFC editors, Will Fickling, who currently is commissioning work for the Phoenix Comic. (Comic creators and readers, if you don't know about the Phoenix Comic yet – which launches in January – GO LOOK NOW.)
John and his fantastic mum Patrice Aggs collaborated to bring you The Boss, with John writing and Patrice drawing. It's a wonderfully gripping whodunnnit, a sort of Emil and the Detectives set in the present day.
The back cover reads: Cunning criminal masterminds have planned a daring theft from the castle museum. They've figured out everything down to the last detail.
There's just one thing they haven't bargained for: a class of super-sleuthing school children with a very special secret weapon.
Will the thieves pinch the priceless prize, or have they met their match in the boy known only as 'The Boss'?!
I remember when I was a kid (reading a series called Encyclopedia Brown, trying to solve mysteries with complicated diagrams and codes. This book would've been right up my twisty-turning alley.
Whoo hoo! Party time! And of course, you remember there are several other amazing books in the DFC Library…
And here are BAGGAGE's comic brothers and sisters, smothered in bananas in the back of BAGGAGE: Good Dog, Bad Dog by Dave Shelton, Vern and Lettuce by… oh, me!, Mezolith by Ben Haggarty (who was at the party – why didn't I manage to get a photo of him?!) and Adam Brockbank, Spider Moon by Kate Brown, Mo-bot High by Neill Cameron and the Etherington Bros' first book, Monkey Nuts. An amazing team, and yes, quite a few of them do events and workshops and teach people how to make amazing story comics. (You can contact them directly through their websites or drop a line to publicist Lauren Bennett: lbennett@randomhouse.co.uk)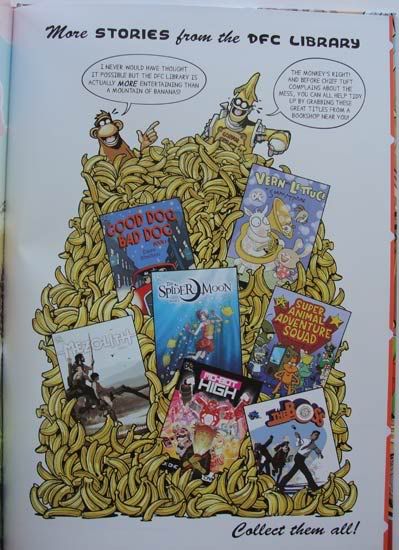 These will be great Christmas prezzies for the whole family. They're generally aimed at people 8 years and older, but I've seen precocious younger kids pore over them, too. You'll be able to buy them here at Forbidden Planet International, Gosh! Comics, your local comic book shop, your local indie bookshop, hopefully the big chains too, Amazon, etc.
A few more photos from the fab launch: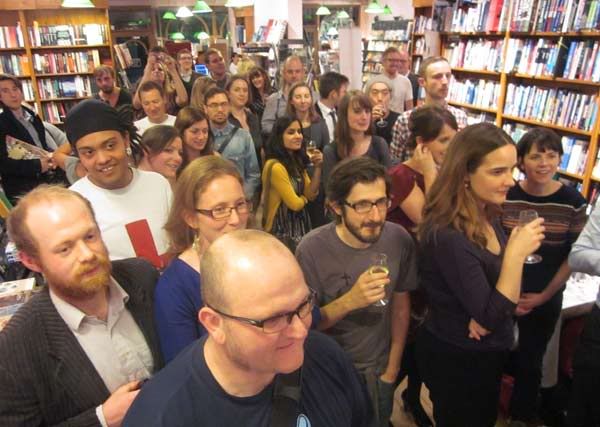 David Fickling gave what can only be called a wild speech about working with the Etheringtons and about comics in general. But somehow Bob Etherington managed to give a speech that was EVEN MORE NUTS, I think maybe they were having a mad speech competition. It was pretty funny.
Here are my new DFB picture book editor Kirsten Armstrong, Phoenix Comic hustler Laurence Beck, Rose Fickling and Phoenix Comic coordinator (and David's wife, Rose's mum) Caro Fickling.
Lorenzo with comic creator extraordinaire Andie Tong. (He's drawn the British versions of Spider-man, among other things.)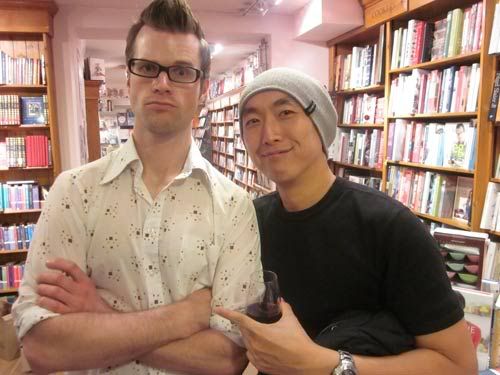 The terribly exciting, whip-cracking DFB office coordinator Matilda Johnson and her new squeeze, Joe. (Oooo! It's luv!)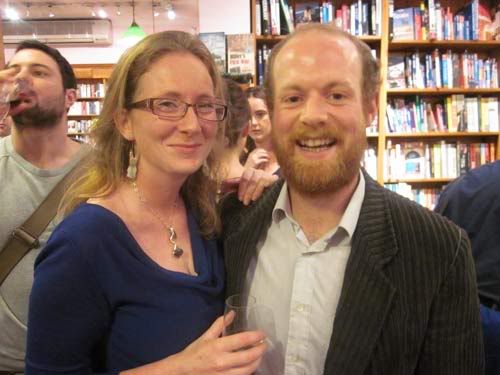 And fabulous evil mastermind publicity coordinator Lauren Bennett, who also pours a mean glass of bubbly:
Okay, just one more detail from the back of James' Super Animal Adventure Squad, 'cos it made me laugh….