epic journey and friendly chaos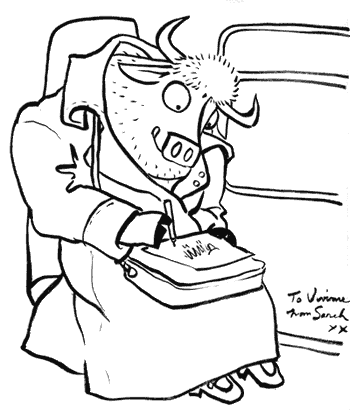 I will post more photos and news very soon of Saturday's brilliant Crystal Palace Children's Book Festival! But some friends came over for the afternoon and their joyfully bouncy sprogs managed to do a real jobbie on my books, toys and flat and I am still recovering, so I will put it off til tomorrow.
In the meantime, you can see the yak I drew on the train when Viviane Schwarz, my very tired, blu-tack-obsessed 7-year-old neighbour friend and I had a yak drawing session on a journey that was supposed to be fifteen minutes and turned into a three-hour voyage. (Viviane has written it up here on her ultra-addictive blog.) I didn't know Viviane very well before Saturday, but now I can confidently say that Viviane's fab and that there are few people with whom I would rather be stuck on a train and sing show tunes.

Photo of aforementioned disaster zone, before it got really messy: