encaustic wax painting with my sister
I'm in Portland now, for Stumptown comics festival this weekend, but while my sister and I were at her house in Seattle, she showed me how to do some encaustic painting with beeswax and oil paint. Here's a collage picture we did together; I really like how the textures and colours came out.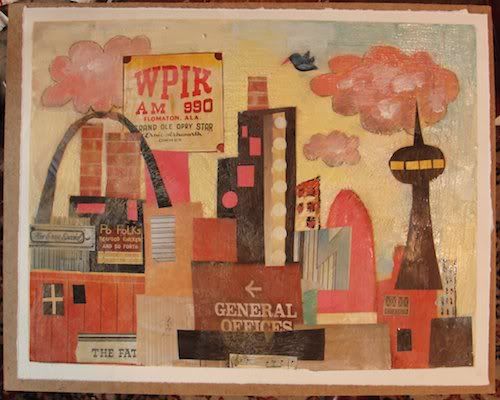 As a side note, I was digging through some old photos at my parents' house and found this picture of Mary and me, painting together at the kitchen table when we were a bit younger. (That's Mary on the right.)
Here's the first encaustic painting I did, of an outraged beaver, like the one I drew in my last post for the Stumptown comic.

I drew this one very fast and it came out way better than another picture I did of an armadillo, where I spent way more time on it. I think big, simple shapes work better with encaustic painting than detailed drawings. My sister had me look at work by Janet Miller, who does some great stuff with simple shapes and very limited palettes.
I love that my sister has all the gear, so I can try out stuff. Here's her hot plate where we melted the beeswax. We painted the wax over some ripped-up map paper to give the surface some texture.
And here's Mary's oil painting station, where we added paint on top of the texture.
You can see the plain beeswax coating in the sky of this picture before we painted it. I like how it makes everything go a bit sepia coloured.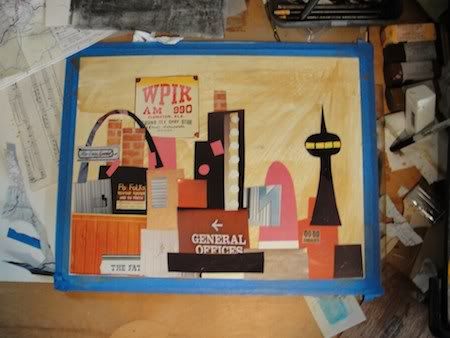 I'm sad my sister and I don't get more chances to make stuff together, but it's fabulous when it happens.