draw serge
Here's my contribution to Jonathan Edwards' Draw Serge site, where about a zillion people have already drawn French legend Serge Gainsbourg. Early this year, Ellen Lindner and I went to see the new film, Gainsbourg, Vie héroïque, when we were in Angoulême. I had a hard time taking it very seriously (mostly likely due to my bad French) but I loved the scenes when Serge and Brigitte Bardot have just broken up and his parents are trying to comfort her while also being totally weirded out by it.
For this drawing, I did it freehand with a fairly thick felt-tipped marker. Sometimes that works better than if I scuff away first in pencil, but then I never know exactly what I'm going to get. I like the slight hesitancy of the lines here, it kind of works for this picture.
I spent all day yesterday moaning about having to sit in front of my computer and answer e-mails and set up Powerpoint presentations, so this morning I cycled the 14-mile loop of the Thames Path from my house and took a few photos. I discovered a new section of the path (cutting through Surrey Docks Farm) which pleased me to no end. The cafe there looks great, I must go try it sometime when it's open. I had coffee at the Brunel Museum cafe (only £1!), which was open early today for kid workshops.
This huge building site in the Docklands looks almost like a lunar landscape.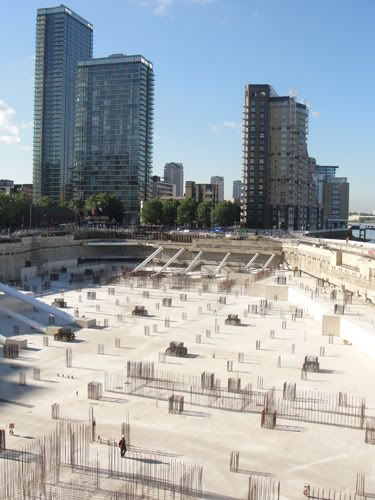 Fabulous looking old machinery in Surrey Quays.
Almost abstract art, such great colours and textures.
Some poor cyclist named Darren got killed here. 🙁
Shadwell Basin and the Gherkin: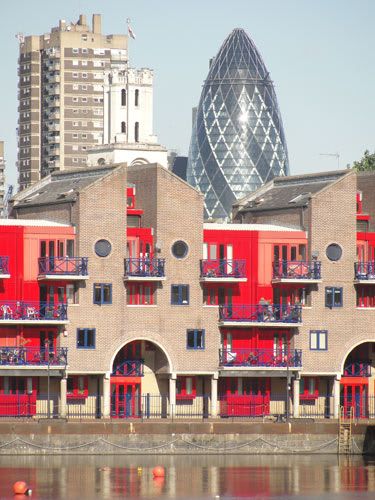 More cool machinery. The cormorants and I were both staring at it.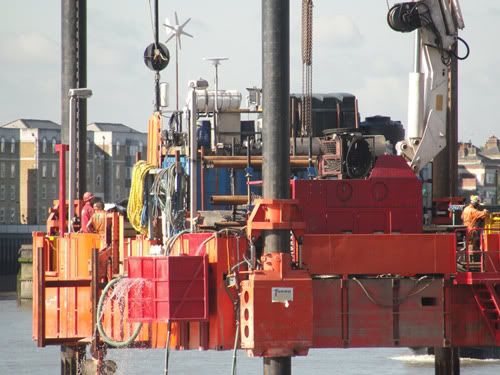 A few critters on my newly discovered section of the path.
And a duck with a great hairdo.