diamond jubilee tuesday
Two exciting things happened on the last day of the Jubilee holiday weekend. One of them was going to Birmingham's Book Bash festival and getting to see fancy Aston Hall and meet the Lord Mayor and a bunch of other great book creators.
The other was coming back from Birmingham to lots of nice tweets, texts, e-mails and a phone call from Stuart's Auntie Barbara, saying that they'd enjoyed watching me take part in Rolf Paints on the BBC. Hurrah! I didn't get to watch it on live telly, but Stuart and I watched it later on iPlayer. If you live in the UK, you can watch it for a week here on iPlayer. And the BBC has a Rolf Paints website here showing artwork from all the different artists and gives related links. I'm not sure if I'll be allowed to keep this video up, but I've copied some of the clips showing Rolf critiquing my lino cut print, and added a bit about comics artist Steve Marchant, so you could see his work from the day more clearly. You can read more about the day in my earlier blog post about it.
I've had a lot of people contacting me about a commemorative plate that Rolf mentioned on the show. I just found out that it will be made by Aynsley China and you can read more about it here. The exhibition of our work runs from today until Sunday in the Old Vic Tunnels. (Details here.)

So more festival fun at Book Bash! I was doing a pirate event for You Can't Scare a Princess! so I drew the book's Captain Waffle doing some book bashing. Well, more like eating its cover off, but it's all in the same spirit.
Oo, and look, it's Nicholas Allan, creator of fabulous book The Queen's Knickers, Cinderella's Bum and loads of other funny picture books. Nick was in the news a lot recently because some glitch at Waterstone's had them accidentally printing out The Queen's Knickers on every receipt.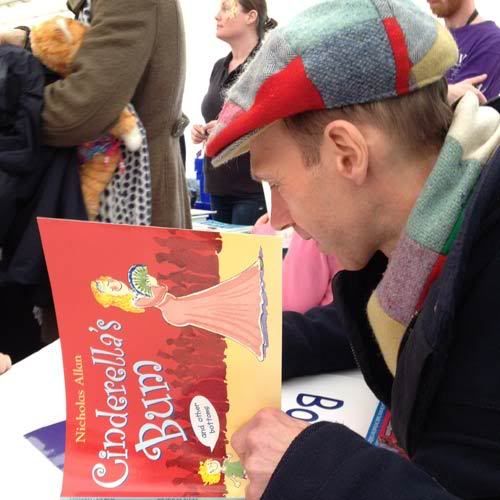 Heh, this picture made me laugh. It looks like someone made a bad smell.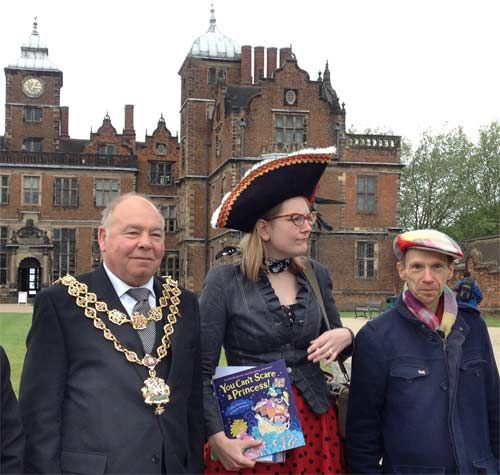 A lovely visitor named Angela Masterson drew a portrait of me during my event and gave it to me:
Look, it's Peppa Pig! Poor Peppa, she really ought to turn sideways, I think her profile is much more flattering than full-frontal snout.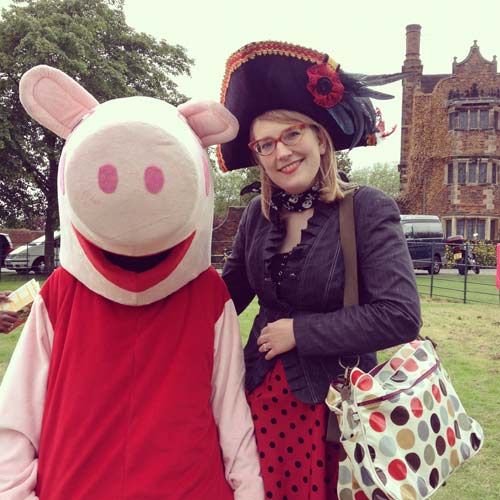 It was fun meeting Derby-based poet, writer and illustrator Chris White. He's been to Book Bash loads of times, and from the number of kids clustered around his signing table, has a real loyal local following.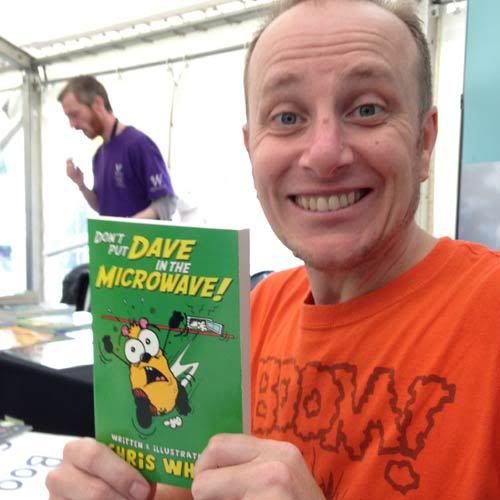 Last time I was in Birmingham, I had a total blast with librarian Jen Bakewell. I was sorry not to get more time to hang out with her, but we still had a quick lunch together and swapped over the hat. And here's cookbook writer Fi Bird, who does wonders with cookery-based workshops for kids. I think they were making guacamole while the kids in my tent made pirates. Messy, but lots of fun. And the fabulous Guy Bass and I threw brief air kisses at each other, but sadly, our events were timed so we never got to see each other after that.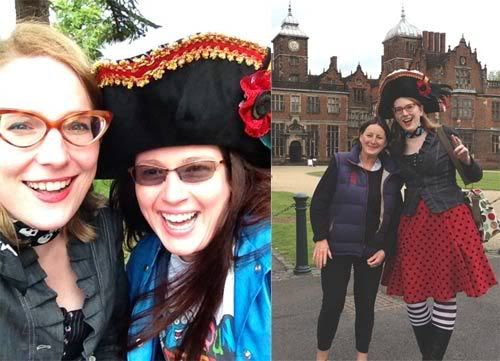 Thanks very much for hosting, Young Readers Birmingham, Gena Gaynor, Nikki, Angela, Jen, Waterstone's and everyone else who made the visit such good fun.
And one last thing! If you're in Wales for the Hay Festival this Friday and Saturday, I'm mucking about with pirates, goblins, drawing challenges and more… details here! Here's something I just made for one of the sessions, but I'll let you guess what it'll be used for. Here's a tiny clue…
If you get a chance to see it, there's a great show on Channel 4 called In the Best Possible Taste, featuring artist Grayson Perry and some tapestries he made, based on his study of working-class life in Sunderland. Fascinating stuff.