deptford museum doodle
This morning I tried to work without doing my morning sketch and was cranky and useless. So I found an old paper bag and took it down to the studio cafe to make a quick drawing on it. (I love paper bags.) Jaine, who's soon opening the Deptford Museum, has a bunch of old Deptford photos hanging on the wall, so she let me take one down and draw from it. My drawing isn't at all true to the original, but it did make me look at it much more closely. For instance, not only does the bride carry an unusual little basket handbag, but the other thing that looks like a handbag is actually an embroidered horse shoe (for good luck).
Here's the photo and my original sketch; I think I might like it better than the version I doctored in Photoshop, hmm. Deptford Museum's opening and having its auction on 26 Sept. I think Jaine's going to turn the room into a 1950s sitting room and have lots of fab things going on, don't miss it!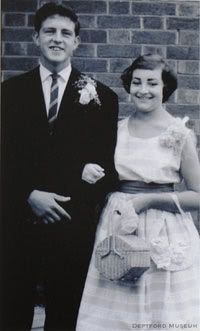 Hey, did anyone get any photos from the Fleece Station party? I missed out a bunch of people in my pics, such as actor Nicole Young, writer (and sometimes puppeteer and illustrator) Sue Eves and theatre coordinator and world music DJ Dave (aka Max Reinhardt). Please send me a link if you've posted some! 🙂