david roberts, petr horáček and making books
News: I'm appearing on a graphic novel panel with Paul Gravett on Oct 10th, 6-7pm at the Cheltenham Literature Festival, aimed at children and adults, along with Garen Ewing and John Dunning. Do come along!
(Does anyone know if John has a website? All I can find is this link to his collaboration with Mardou. Oh, and Paul Gravett's website has been revamped, have a look!)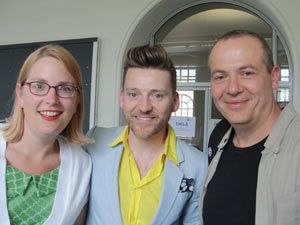 I had a great time yesterday, speaking on a UK Literary Association panel hosted by Write Away's Nikki Gamble at the old Royal Naval College in Greenwich, with two brilliant people who make children's books: Czech writer and illustrator Petr Horáček and London-based Liverpuddlian David Roberts, who's one of my favourite illustrators working today. Have you seen the book of horror stories he did with Chris Priestley, Tales of Terror from the Black Ship? It's one of the best things I've read lately, really gripping stories, with wonderfully atmostpheric line drawings, inspired by the likes of Edward Gorey and Gustav Doré. Nikki asked us questions about our influences, and Petr and I were able to talk about our mutual love of Kveta Pačovska's work. Two other illustrators we mentioned were Eric Carle (a big influence on Petr) and Errol Le Cain. (We can't quite figure out why Le Cain's work is so hard to find in Britain. David and I were both besotted with it when we were kids.)
After the panel, the organiser David Reedy said he'd had people come up to him and tell him it was the best illustrator panel they'd ever heard, which was great to hear. Nikki asked some great questions, David was hysterically funny, and Petr made us all jealous with the photos of his attic studio and printmaking specimens. I'd picked up some books for David and Petr in a fab Anchorage book store (Title Wave Books) that I thought they'd like: The Red Shoes illustrated by Sun Young Yoo for David, and Circle Dogs, illustrated by Dan Yaccarino for Petr.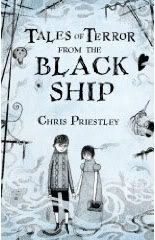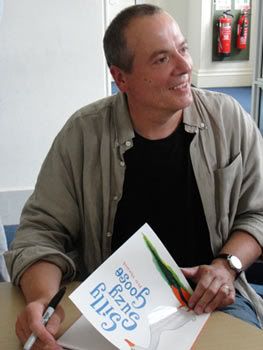 David was waiting around to meet his partner in Greenwich to celebrate their five-year anniversary, so I nabbed him for a drink at the Greenwich Union, which made me squiffy with happiness. Then Stuart decided he'd meet me there for dinner, and it sounded like a great plan, but Alaska jet-lag hit me just as I was ordering my food and I almost did a face-plant in my curry. I think David's dinner must've been a whole lot more romantic, I could barely make it home.
Just before I left for the States, I did a workshop on making little books with Nikki at the Institute of Education (near the British Museum). I displayed some of the little books I'd made in the past, and included some by other people who've used interesting bookbinding techniques, such as Asia Alfasi and Oliver Lamden.
I was very impressed by the books one participant brought along, but I wrote down her name on a slip of paper and I can't find it anywhere, argh! I am on the hunt for this creator's name, I'll get in touch with Nikki and post it. I remember chiding her for not putting her name anywhere on the book. Note: If you make a book, please, please put your name on the front cover! It's very important!
And that's Nikki, the woman who makes all things happen!