david fickling books & the phoenix comic: a peek into 2 oxford publishing houses
But first… here's a picture I drew yesterday in Oxford with Mo-Bot High creator Neill Cameron and David O'Connell! Click here if you'd like a slightly larger version for you or someone you know to colour in. (See if you can guess who drew which part!)
Dave and I went up to Oxford for another meeting with our publisher David Fickling about the picture book we're co-writing and co-illustrating. But before our meeting, we stopped by the new offices of the Phoenix Comic, set to launch in six months. (I was so curious!) Here's Dave at the front door: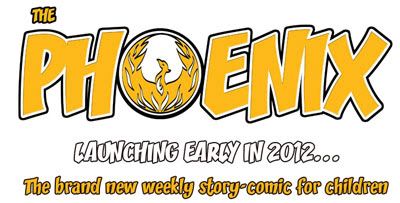 The Phoenix Comic blazes the same amazing comics trail as the earlier DFC magazine, with much of the same editorial team, but this time set up as its own business and a three-year guaranteed run. Here I am with Ben Sharpe, my lovely editor who worked with me on Vern and Lettuce. He gave me wonderful amounts of freedom with the weekly strip, mostly just giving me encouragement and telling me to go ahead with it. I really miss working with Ben, and I'm so glad he's back!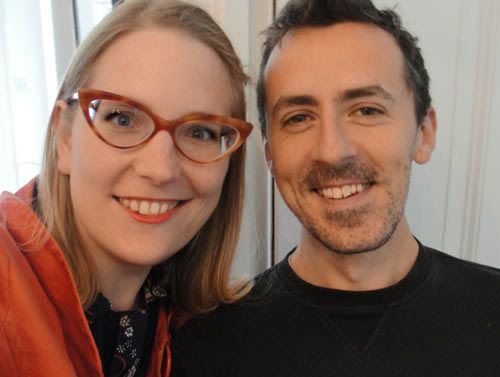 You can tell The Phoenix just moved in, here's what you see at a series of front doors: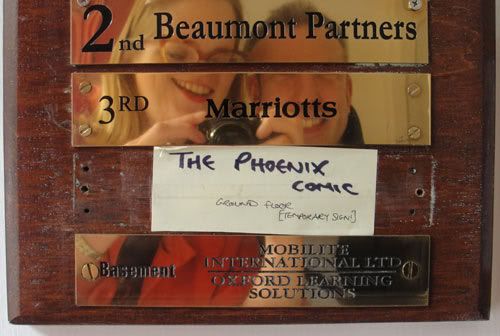 Ben showed us some amazing comics stuff, but we have to keep it under wraps, just for now. But you can see him hard at work at his desk. (Spot the Mo-bot High sticker on his Mac…)
The Phoenix are looking for high-quality comics! Do you make them? Have a look at the submission guidelines here.
After a cup of tea and rather lovely biscuits with Ben, we waved goodbye and went two doors down the road to the David Fickling Books office, where we had our meeting. Here's a little painting in the front hall that someone's done of the logo:
And fabulous Tilda Johnson, the first person you see when you walk in and the person who tells David off when he's been e-mailing too long or needs to go to a meeting. She's loads of fun and super organised.
Here's Dave at the big table in the middle of the office with David Fickling and our new editor, Kirsten Amstrong (who's taken over from Hannah Featherstone, who just had a baby. Which is something that happens to people in children's books a lot.
I can't show you stuff from the picture book we're working on just yet, but here's a peek at one of the books we're looking at here, while discussing big landscape scenes: Sadie, the Air Mail Pilot by Kellie Strom.
We peeked downstairs, where the old DFC offices used to be, and found editor Simon Mason. Here's him doing a 'I'm focusing very hard' expression.
We met up with Neill Cameron after the meeting, and here's Dave doing his part of our drawing.
And finally, here's a sketch I made of Dave on the train ride back to London.