critique group
On Sunday afternoon I met up with my crit group, where we said goodbye to our member Kim Toohey, who's upping sticks to Dubai, where she'll get paid better for her teaching job. She's originally from New Zealand, but I hope she comes back to visit us in London.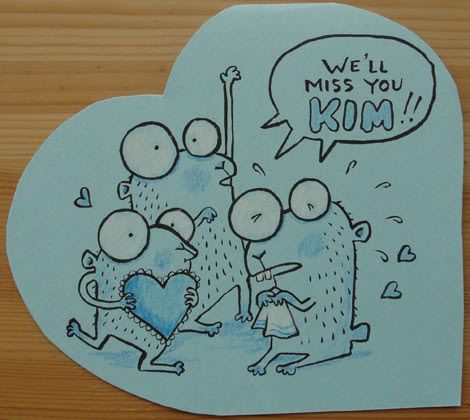 We formed our critique group through the Society of Children's Book Writers & Illustrators. Not everyone could come to this meeting, but from the left, we're Kim, Dan Fone (my website designer), Layn Marlow and Margaret Carey.

Here's Layn showing us the colour proofs for her latest book with Oxford University Press, Bug & Bear, launching next February. I loved this lilypad water scene.
I've been in two crit groups since I came to London. The first started meeting after a bunch of us took some amazing illustration evening classes with illustrator Elizabeth Harbour, and then didn't want to stop meeting even though the classes had stopped. We met monthly for about two years. I can't remember how long this current group's been meeting monthly, but for a few years at least. It's partly social and partly work: we catch up with each other, but we also run our work by each other to get honest feedback and work out ideas we haven't quite got our head around. Usually we'll all bring something we're working on, and maybe another thing that's inspired us recently (often a children's book). Then we go around the group, with each person taking 20 minutes or so to show their stuff and get our feedback. Then, before leaving, since we meet in bookshop cafes, we usually head down to the children's section and forage among the books to see what's new.
Speaking of SCBWI, have you booked your place for the British SCBWI Annual Conference? It's 13-14 Nov, in Winchester, which is an easy train journey from London. I'm speaking on two panels, How to Sell your Book and Social Networking: a blessing or a curse? At the end, we're having a big party where everyone can launch their latest book. (Which is great if your publisher won't cough up money for a launch party.) Book your place quickly, these conference places sell out fairly fast.
And Layn Marlow and I are giving a joint talk about making picture books in Oxford on 6 Nov, an open conference with the Federation of Children's Book Groups. Other speakers will include Philip Pullman and Mary Hoffman and it should be a very interesting day. It's not cheap, £40 for non-members, but it's all-day and includes lunch. You can download a booking pdf form from this page.
Today Anne Cottringer, the writer of When Titus Took the Train is coming to the studio so we can try our hand on making a little animation. I've never made one before, and Anne usually does documentaries, not animation, but we're going to have fun and see how it goes. Gosh, she arrives in an hour, better get ready! 😀 Very excited.