comiket + pop-up festival: comics for all ages!
This weekend I went to one of my favourite comics festivals, Comiket, just across the road from Liverpool Street station in London. And a few days later, I went to a meeting at Central Saint Martins art college to plan a comics festival for kids! So starting with Comiket, which had mostly grown-ups attending, here's one of my small-press heroes, Philippa Rice, doing live collage drawing:

I did live drawing last year, it's quite nerve-wracking being on such a big screen! But fun, too… Here you can see an aisle of comics people selling their wares.
Here's lovely John Allison…
…who was offering sketches made on the spot! I liked the little sign he drew:
I came home with one of John's comics, Murder She Writes, which starts out featuring a children's book writer, but her chipper 12-year-old intern takes over the story as they go on a writer's retreat and there's a murder. It's a great story, really made me laugh. You can read it online here, and I really recommend getting a printed copy and John to draw in it next time you see him.
So here's the stuff I brought back from Comiket, a good deal of it self-published, or by creators who started out self-publishing: How I Live Now by Meg Rosoff (Oh wait, that's not a comic, that's a World Book Night gift novel, but a cracking good read!), Please God, Find Me a Husband by Simone Lia, lovely postcard by Philippa Rice, Caticorn stickers by Timothy Winchester, Miss Moti by Kripa Joshi, Murder She Writes by John Allison, People I know by Timothy Winchester, Goliath by Tom Gauld, Sevillana by Marina Williams, Discovering by Elly Gay, Nine Lives by Kristyna Baczynski, Pocket Full of Coffee by Joe Decie, My Cardboard Life by Philippa Rice (the third time I bought it; it makes such a nice gift), Ladder by Kristyna Baczynski, 12 Postcards by Tom Gauld, Cardboard Colin and the Wasps and Models Forever by Philppa Rice, three Glister books by Andi Watson.
And here are two of the fabulous Comica Festival Comiket organisers: Megan O'Donnolley and Paul Gravett on either side of oodrow Phoenix, all dressed in very subtle shirts.
I finally got to meet Yorkshire-based comic artist Kristyna Baczynski after hearing lots about her. Here's a sketchbook she drew on her lunch breaks while she was working a full-time office job. She printed it up into booklets, titled, appropriate, The Lunch Date. (Oh, and as someone pointed out on Facebook, there's a Stan Lee lookalike over her shoulder.)
And here's Elliot Baggott, who's just about to graduate from Wimbledon art college and who interned with my studio mate Ellen Lindner, folding lots and lots and lots of mini comics. I got to see the comic he's working on for his final degree show:
Here are Marc Ellerby and Adam Cadwell, who have just launched their own new publishing house called Great Beast. (FPI article about it over here.)
I almost never go to a comics fair without buying one of Brighton-based creator Joe Decie's comics. Here he is with Mike Medaglia, who's part of running the Gosh!p book club, a great place to meet up with other creators and find out more about interesting comics.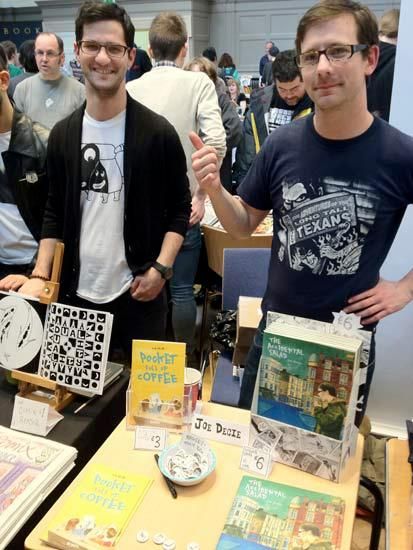 Andi Watson at the Walker Books stand, signing my Glister books, next to a life-size cutout of his Gum Girl:
Here's Warwick Johnson Cadwell with the poster for Season 2 of his Passenger a Day drawing project. WJC captains a boat on Chichester Harbour and every day, he draws one of the people who come aboard. I have his Season 1 poster hanging right over my drawing desk in the studio.
I absolutely love WJC's work, I think his drawings are some of my all-time favourites. Here's the drawing he did in the Comiket live drawing session:
The lovely Emma Vieceli took a turn on the Drawing Parade. She's appearing again from 25-27 May in London at MCM Expo, which got 60,000 visitors last year, largely teenagers in full costume. (And You can see a Vern and Lettuce comic I made from our recent trip to the Paris Manga & Sci-Fi Show.)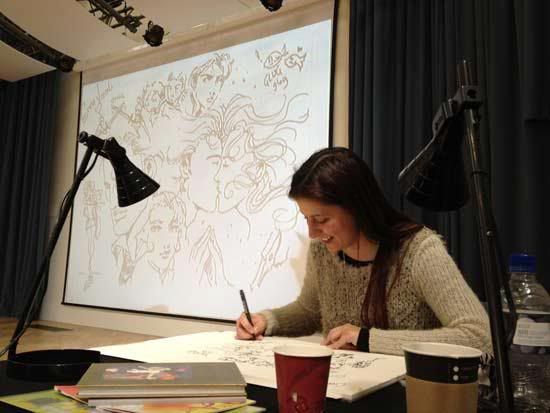 And it's always great to see someone exhibiting for the very first time! Here's Kiwi creator Marina Williams, with her strategically placed cupcakes that stopped me in my tracks.
Kripa Joshi signing one of her Miss Moti books:
I've quite recently met Craig Conlan (right) and he has the most lovely god-daughter (niece?) named Belle, who's a huge fan of my Vern and Lettuce. Hurrah!
There weren't many kids at Comiket, and it was great to see her.
Speaking of kids, one of my favourite things at these events is to see kids who've taken the initiative to get their own table and print up comics. It's usually adults at the tables, but every so often you get a table entirely staffed by kids. Here's Zoom Rockman and his friends.
Oh, awesome. I'm just checking out his work: he's ten years old and he already has a website and webcomics! This guy will go far.
Which brings me on to the second event. I think kids would LOVE to have a comics fair like Comiket aimed more toward them, more of a family kind of place. And since kids don't usually have a lot of money, even if there were comics for sale, the focus would be more on them making comics than buying them. Which is what I'm hoping will happen at this summer's Pop-Up Festival in King's Cross, London, on Saturday, 30 June. I've been invited and funded, with ten other creators, to curate a marquis, and I'm turning it into a comics festival. I asked the super-organised David O'Connell to help me with the logistics of it, and on Tuesday, we curators went to Central Saint Martins art college, who are hosting the festival on their site, to select and be selected by students whom we're hiring to do set design work and make the tent look FABULOUS.
Here are a few of the curators, presenting their ideas to the students: Marcus Sedgwick, James Mayhew, Candy Gourlay and Laura Dockrill.
You can read Marcus's post about it over on his blog. Here are some reps from the Society for Storytelling presenting their concept. Our festival will be funded, but we're still looking to build the financial base, so if you can consider donating £25 to the Friends Scheme, that would help make this event really fly.
The selection process was quite fraught! After we talked about our ideas, the students showed us their work, and we all had to pair up without getting into fights about who got which student. But it actually worked out very well, and I'm very excited about the two set designers who will be working with me and Dave, Isa Caruncho and Chiahui Liao (Oo, Kate Beaton t-shirt!):
Exciting times! Here was my earlier, explanatory post about it, and I'll keep you posted on what we get up to, but in the meantime, families, mark your diaries for 30 June, this festival's going to be AWESOME.