chris wormell's lino cuts
Last night I spirited Stuart away from the Ministry of Magic and we went to The Illustration Cupboard to see an exhibition by Chris Wormell of his seaside lino cut prints. (You can see all the prints online here, and the show runs until 12 Sept.)
Stuart and I have always been fond of these prints; when we first got married, we went on loads of hikes in the Kent and Sussex countryside and almost always ended the day in a pub, where we'd admire Chris's prints on Adnams beer ads.

I love Chris's simple, bold colour fields, broken up with wonderful bits of texture, and his oil-based ink really glows across a room. Oil-based ink takes ages to dry, and his lino cuts have loads of different layers, so each print represents an enormous amount of time and work, because so many of them go wrong in the printing process. Chris uses a metal spoon to rub the backs of the prints to get the ink to take, I bet that's one worn-out spoon.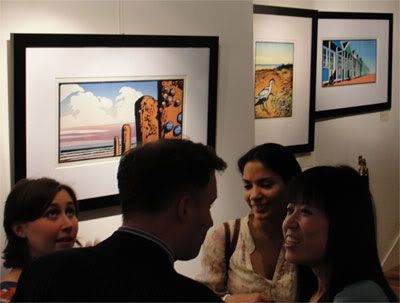 I made a lot of lino cut prints when I was first getting into illustration – Stuart would come home from work to find them drying on every available surface in the kitchen – and I'd really like to try some more. I recently found a whole picture book I'd made in linocuts, but I was just learning how to draw and it really is very bad, but nicely earnest. Gary Northfield (one of my studio mates) made lots of linocuts for his Illustration degree and the three of us in the studio keep talking about having a couple days of our own lino cut workshops. I"m really looking forward to that.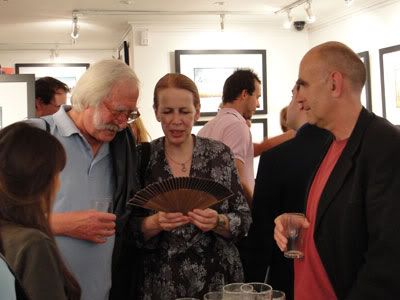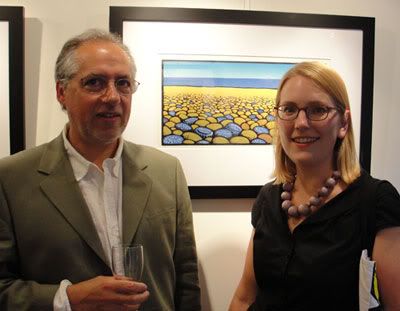 After we had a selection of very nice Adnams beers at the exhibition, we bought sushi from the Japan Centre on Piccadilly and had a romantic picnic on the grass in St James Park, only to discover afterward that the mosquitos had been feasting on our ankles. Oops.