china adventure comic, part 3
And here's the third installment of my China adventure comic! Click over to the David Fickling blog to read it in full.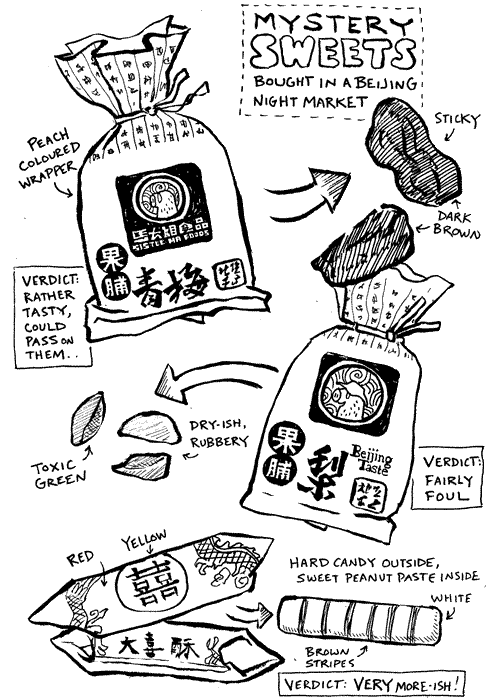 Here are the two very different videos I put with it. One is of a park in Beijing, at 8am on a Monday morning. You wouldn't believe how active and social the elderly people in Beijing are, it really made me think they know something we don't.
Have a look at this hacky-sacking granny:
And here's a Beijing circus act that completely freaked me out. How many motorcycles can you have whizzing around in a not-very-large round metal cage?
The best thing about the circus were the two rows of women across the aisle from us. I don't think they'd seen many foreigners before, and staring at my mother and me had them in absolute stitches. They were staring so hard that I finally started taking photos of them, and that got them all cackling. Then my mum jumped when she suddenly felt something around her neck and realised one of the women had come up behind her to give her a hug.
On a publishing note, don't miss the great interview over at The Write Stuff with Gillian Rogerson, writer of my picture books, You Can't Eat a Princess! and You Can't Scare a Princess!. It's a real insight into our books, what she thought while she was writing them, and thoughts about getting into the business of picture books. I haven't heard yet how the Penguin edition of the first book is doing in America, but fingers crossed! Good news keeps trickling in.