cheltenham literature festival

Stuart and I decided to make a holiday weekend of our trip to the Cheltenham Literature Festival, and our friend Garen Ewing was on the same panel with me, and brought along his wife Ellie, so we had a great time. On the panel, I got to meet writer of the graphic novel Salem Brownstone, John Dunning and the slightly shy but very lovely and funny host, Kieren Phelps (who'd just a couple nights previously been presenting the annual Cheltenham Illustration Awards, where Simone Lia and Tom Gauld had given the keynote speech.) Here's a link to Garen's write-up of the event.


I felt a little funny plugging a picture book when the panel was about graphic novels, but I showed a lot of my comics work, including my Vern and Lettuce strip for The DFC. Most of the audience questions were about making their own comics: how to get their comics published, Photoshop techniques, whether it's possible to make a career of making comics, etc. I briefly mentioned my studio and when I said I shared with Gary Northfield, the guy who creates Derek the Sheep for the the Beano, I saw a kid in the front row jump about a foot and suddenly he was all ears, heh heh.
The great thing about literary festivals is that you never know who you're going to run into. I got to meet the usually elusive Lucy Cousins, creator of the beautiful and boldly graphic Maisie books:


Lucy Cousins & me with our books; Maisie in the kids storytelling tent
I had a couple of my own Morris the Mankiest Monster books in my handbag, and I ended up giving one to Lucy and one to Cherie Blair, who was waiting with me in the Writer's Room before our talks. Cherie said, 'oh yes, Giles is the Purple Ronnie guy!' and went through the whole book, laughing, then blanching at the page where Morris looks at the potatoes growing out of his pants. She was really nice, I hope her talk went well.

Stuart picked a couple talks for us to go to, so we went to a panel about spooks and spying which included Stella Rimington, the person who held the real job behind the character of James Bond's 'M'. I was slightly annoyed at the academic dude on her left who kept interrupting her, but it was great to hear her talk. Just a background note, I met Stuart while he was working for the British Embassy in Moscow, so we're familiar with a lot of the places and job positions that often come up in spy novels.

Stella Rimington at the signing table; you can just see writer Kate Mosse, the seated blond in the background
We also got to hear a great talk by John Irving about his latest novel, Last Night in a Twisted River, and about the discipline of writing. He talks a lot like my dad, taking a long time to pause and think after each question, and answering in a somewhat pedantic way but delivering lots of thoughtful insight. He talked about how he likes to work backward when he writes, getting a very solid idea about the book's ending, then figuring out how far back the book should start. I took loads of notes, so ask me if you ever want to know more about what he said, but one thing that made me laugh was when he said, When you start writing, the piece of paper doesn't know who you are; the paper is unimpressed. Heh heh, even John Irving gets the Terror of the Blank Page.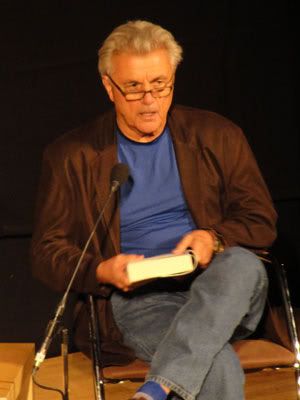 John Irving
I went into one of the tents to try out the new Sony Readers. Still not convinced I want one, but I had loads of fun drawing alien graffiti on Hitchhiker's Guide to the Galaxy and drinking their free hot chocolate.
We crashed at lunch time in the refreshments tent and Stuart read the paper while I drew monsters with the kids at our table:
They had fun reading through Morris and being grossed out in all the right places. The girl made a fun mucky mess of the table with some rain water she and her brother had collected from one of the fountains, then I got to meet their dad, a Times features writer named Damian Whitworth, who introduced us to his friend, Times journalist Ben Macintyre, someone I've always been a bit curious about because of his last name.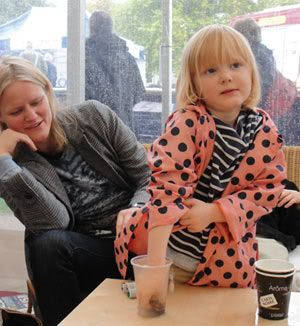 After our event on the first day, we went out to celebrate Ellie's birthday with a dinner at an ornately decorated Thai restaurant.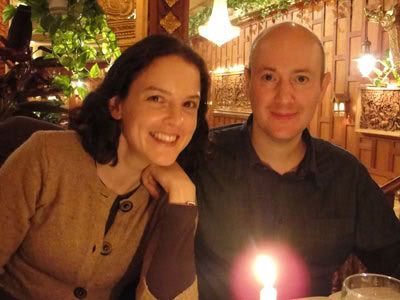 Ellie and Garen Ewing
I almost ordered this dish because it seemed very in keeping with the manky Morris theme:

We had lots of veggies carved as flowers and now that I'm an adult, I'm allowed to play with my food:

Here's a nice photo of which my mother will approve: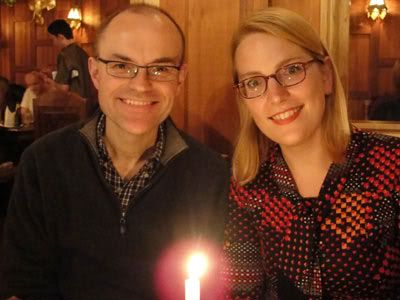 The other pic is Ellie and me posing next to Cheltenham's rabbit and minotaur, which at night-time look like something out of Donnie Darko.
We went on a walk around town before heading off; it was great to see someone's taken on the DFC and given it new life:
And we popped into the Cheltenham Art Gallery & Museum and saw this fabulous, macabre chimney sweep: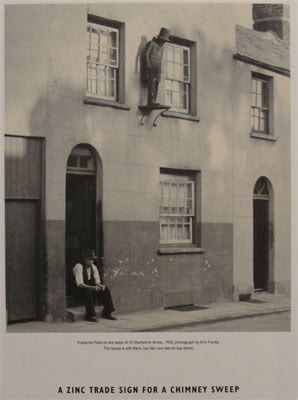 And didn't hang around long enough to find out how to become friends of the local Pig Insurance society, maybe next time.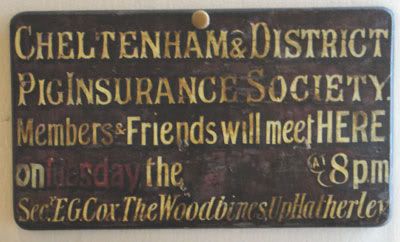 And a last one of Stuart, the star of our show…
Thanks, all your people who made this festival happen!