cartoon museum workshop
Look at this comic I found in a paper pile in the Cartoon Museum workshop room! Ten-year-old Fionn Fitzpatrick, you're out there somewhere, I want to see more of your comics! (I gave it a quick colour job just to see how it would look.)
The workshop hadn't been hugely publicised and wasn't large, so the seven of us did some hard-core comics making and came up with some great aliens and fairly polished looking books by the end of the session.
**Quick note: I'm leading 2 MORE WORKSHOPS AT THE CARTOON MUSEUM NEXT WEEK: THURSDAY, 12 AUG (details at the bottom of this post). Please tell anyone you know who might like to come!**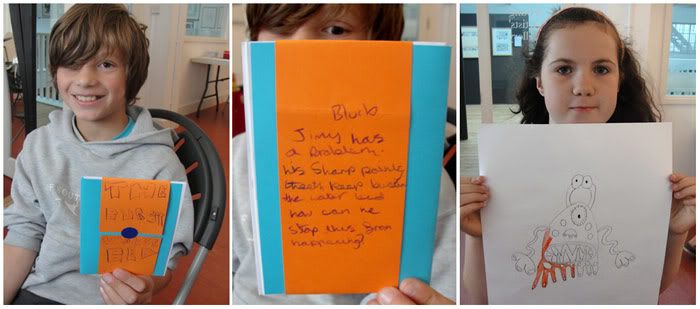 Then we had a more casual drop-in session during the afternoon, where I did this fun comics jam with one of the mums while she was waiting for her kid to design his alien.


I did another comic I really liked, but I seem to have lost it, boo. (Maybe someone in the Cartoon Museum will find it in one of the stacks of paper…) As I was clearing everything away, my friends Bridget and Woodrow surprised me by walking in and whisking me away for a very welcome drink. Woodrow had just bought a beautifully produced Fantagraphics edition of Dennis the Menace, which I took photographed:
And here's Bridget and me (you'd never guess that she was one who advised me on my new specs).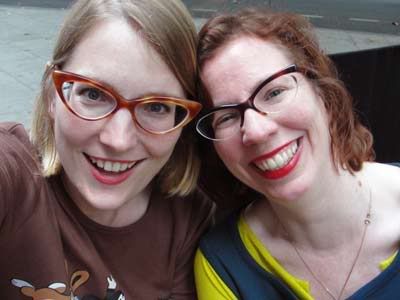 Aug 12, London, Cartoon Museum
11-1pm (11-14 year-olds)
Comics Jam Session: Meet up with other people who love making comics to take part in an interactive comics making session. Learn how creating comics collaboratively can help overcome writer's block, inject your stories with fresh material and send your characters flying off in directions you never could have imagined. See some of Sarah's comics jams and learn how her recent comics jam with a friend got her a book deal with a major comics publisher. Feel free to bring along your questions and your portfolio for critique and feedback.
2-4pm (8-10 year-olds)
Comics Jam Session: Just like a musical jam session, comics are great fun to make together with other people. Come design characters and set them flying in directions you never could have predicted with this interactive comics game, which can be played again and again, always with new outcomes. Then pull the ideas together to make your comic, put together your own book and learn how you can self-publish it with a minimum of cost or materials.
Go to the Cartoon Museum website for booking details.