caption happiness
This weekend I had a fabulous time in Oxford at Caption comics festival! But first, a word from The Fleece Station (…look, my desk!):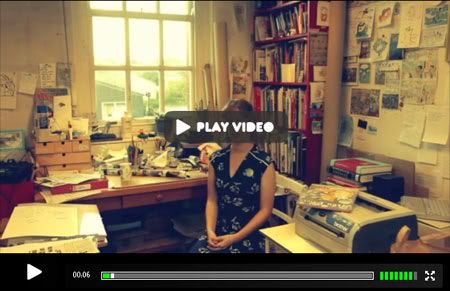 My fab studio mate, Ellen Lindner has been busy putting together an anthology with comics by Ellen, me and a whole bunch of great UK-based comics folk, including Francesca Cassavetti, Tanya Meditzky, Cliodhna Lyons and a whole bunch others. But it needs your pre-orders to get off the ground! Watch the video, then visit this site for details!
Some faces I sketched at Caption: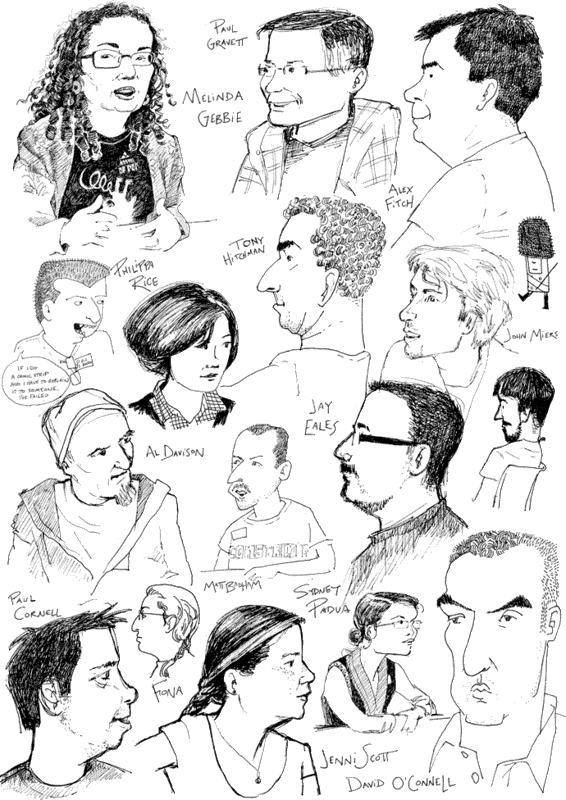 Thanks to organiser Selina Lock (girlycomic) for this photo of me interviewing Darryl Cunningham about Psychiatric Tales, his new book with Blank Slate, soon to be published in the USA by Bloomsbury.

I find interviewing someone far more challenging than being interviewed (it involves more homework!) but I think it went well and Darryl sounded very pleased with it. Psychiatric Tales seems to be going down a storm with people who don't usually read comics, in various professions including medical, and I told him afterward that I see him as a real ambassador for us all, getting comics, and an appreciation of comics as a medium, out into the wider reading world.
One of the highlights of the weekend was getting to hang out with DFC buddy Neill Cameron, and I got to meet his wife, Di, and their son for the first time:
Unfortunately Kate Brown (Spider Moon) couldn't make at the last moment it since her partner Paul had to go to hospital (he's home now), but Neill and I realised this was the first of several times we may be doing talks together about our books and had a great time giving it a first run. We showed lots of pictures and talked about the DFC weekly magazine in its heyday, its recession-timed closure after issue 43, then about how the project couldn't die because of the way the DFC creators had become a living, supportive community. And for me, it couldn't die because Vern and Lettuce had become like members of my family, who were going to go on having adventures whether they were printed or not. Neill showed some amazing images from the makings of Mo-Bot High and talked about working with the editors to learn how to craft a high-quality storyline around his ideas and brilliant images.

Here's the second round of DFC Library books in order of publication: 2 Sept, 30 Sept and 28 Oct. (Forbidden Planet International have put them on their Most Wanted List of comics in the next three months.) David Fickling's printing 5,000 of each book and they have to sell for the series to continue. Loads of publishers, distributors and booksellers are watching this series like a hawk to make decisions about future comic projects, which is a daunting responsibility to carry, but we hope loads of people help spread the word about the DFC Library series.
Paul Gravett hosted a panel on webcomics with (from left) David O'Connell (Tozo – the Public Servant), Sydney Padua (Lovelace and Babbage – a great discovery for me), PJ Holden, Philippa Rice (My Cardboard Life – I first saw her lovely stuff at Expo) and Lizz Lunney (Online Comics Sushi). The panel was hugely interesting, but we were all left wanting far more since we only had an hour, and the contributors had so much great stuff to say. I would have loved to see it broken into two panels, one on webcomics and one on the use of, and possibilities for, the latest digital technology in comics.

Melinda Gebbie and John Miers, whom I'd only just met at Comica Social Club, both gave fascinating talks. (On a side note, very happy to hear from Melinda that she and her hubby Alan Moore had shared a good laugh at home over Morris the Mankiest Monster, yay!) I was particularly intrigued by John's talk about his Tower of Babel comic, which experiments with the comics form and his exploration of semiotics; lots of playing with speech bubbles and symbolism, all delivered in highly articulate way that made the rather complicated and somewhat academic subject matter easy to grasp. I'm not sure if I would have bought John's comic if I'd just seen it on the table, but once he'd taken us on a tour through it, a lot of us were snatching it up to have a closer look and to get ideas for ways to play with the comics form in our own work.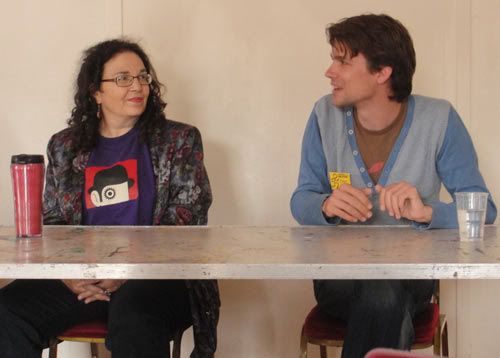 Besides stretching my brain, Caption was great for catching up with people I hadn't seen for awhile and also making new friends, including John and his fab partner, a freelance festival organiser named Megan Donnolley. Here we are having drinks when a whole bunch of us didn't want to go home after Caption finished.
Jeremy Day led a free-form workshop where we all made a big comic for the wall. Here she is, trying to work out the panel order: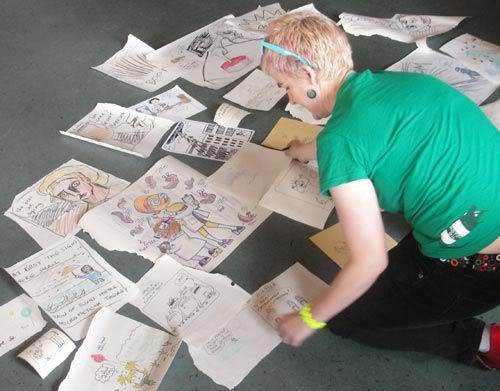 My contribution when asked to draw a sexy meteorologist and mad professor in a rain of slugs (note the subliminally lurking Woodrow and Bridget):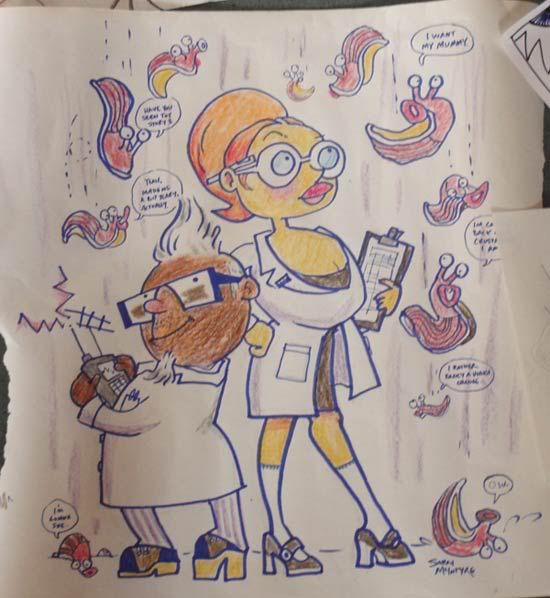 Here's another set of panels I liked (anyone know who did them?):

Here's Sydney Padua posing with the Darryl Cunningham painting she bought at Caption's auction:
The first thing I wanted to do after leaving Caption was to look up Syndey's Lovelace and Babbage webcomic, a crazy romp through episodes in the life of inventor Charles Babbage and his correspondent, Ada Lovelace, complete with historical notes. The clips I saw looked brilliant, I'll get back to you about this one!
Comics reporters Dan Fish and Matt Badham at the crayons table:
Thanks so much to all the amazing people who have made Caption happen through the years! Several of them are stepping down for various reasons (one of them visible in this photo of Jenni Scott and Richard Buck), so there's lots of room on the committee if other people want to get involved in putting together another festival. Thank you, Caption team!