cambridge women in comics conference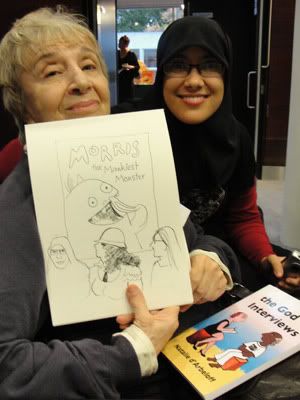 Hey, I learned loads this weekend, and took so many notes that I'm basically just going to do a list of links and go back and explore them all when I get a moment! I didn't get many photos of the talks, but that's okay, Natalie D'Arbeloff was busy with her sketchpad, so we were well documented! Here's Asia Alfasi and Natalie with her drawing of the talk Asia, Sarah Zaidan and I gave. Here's Asia giving her talk:



sketches by Natalie D'Arbeloff
We also got to hear great talks by political activist Kate Evans and Lost Girls illustrator Melinda Gebbie:
Kate was really inspiring and I'm half-way through reading her book about climate change, Funny Weather (which has an intro by George Monbiot). Melinda bought my Morris book to add to her big picture book collection and said she was excited by what all us young people are getting up to, that comics creators are the barometers for the rest of humanity and 'the ones who make gold out of s***' (which, with my Morris book, isn't that far off, although Giles calls it 'dung'.)
Woodrow Phoenix and his Rumble Strip editor Corinne Pearlman from Myriad Editions were the ones who gave me the big list of people to look up in their talk about autobiographical comics. I know of some of the names, and I even mentioned a couple in my own talk, but many of them are new to me.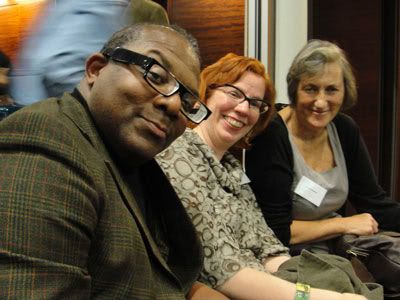 Woodrow Phoenix, Bridget Hannigan and Corinne Pearlman
Woodrow and Corinne's list included: Ludovic Debeurme and his book Lucille, Debbie Drechsler, Sarah Glidden, Phoebe Glockner, Hannah Berry, Jeremy Dennis (cleanskies), Miss Lasko-Gross, Lee Kennedy, Vanessa Davis, Bastien Vives, Nicole Hollander, Kate Charlesworth, Claire Bretecher, Ramona Fradon, Marie Severin, Lynda Barry and M.K. Brown.
Dominique Goblet gave the last talk, and I was hugely impressed both by her artwork and by the project she did with her daughter, Changements. When her daughter was seven years old, they decided to draw portraits of each other every week, and they continued doing it until the daughter was 17 and needed her own space. They were experimental with the different ways they painted and drew, and it was fascinating to watch their artistic progression along with the clear aging of the girl and the less obvious aging of the mother. And what a cool idea of something to do with your kid. Click on the link to see some of the images from the project.
Thanks to Sarah Lightman and Amanda Rigler at Murray Edwards College for organising such an informative and fun day!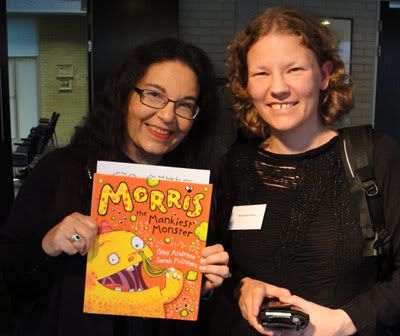 Melinda Gebbie and Danish PhD student of comics Rikke Platz Cortsen