cambridge sci-fi & fantasy night
Yesterday I went up to Cambridge to see my lovely editor friend Bridget Hannigan, coinciding with the Sci-Fi & Fantasy evening at Heffers bookshop that was so jam-packed with top speakers that it might as well be called a festival. You'll probably recognise the creator of this flip-chart drawing without even reading the signature…
Right before the event, Bridget and I met up in the pub with Cambridge friends (and former DFC colleagues) Emma Vieceli and Dave Shelton, along with Philip Reeve (who had come all the way from Dartmoor), Random House publicist Lisa Hayden, Paul Stewart and Chris Riddell (just in from Brighton… and look, they have a joint website! So cosy…).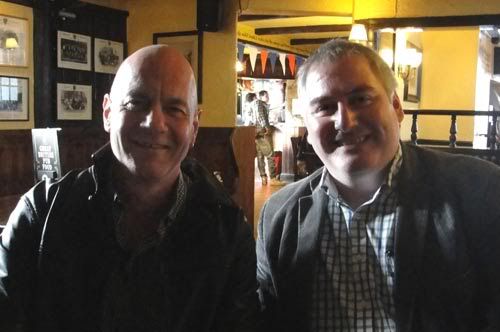 Visual treat of the night was writer China Miéville's tentacled tatoo…
Here's Alex Scarrow on the Patchwork Throne of Glory, just about to set off on a high-energy reading of a chapter set on the sinking Titanic from his time-travelling Time Riders thriller The Doomsday Code.

This was Philip Reeve's first return to Heffers, after working there for two years when he was an illustration student at Anglia Ruskin art college. He was pleased as punch when one of his former classmates, Helen Paterson, turned up:
Philip's reading was so packed out that the only space I could find was right at the front, on the floor, and I couldn't get a proper photo (so here's one of him right at the end). He surprised me by suddenly asking which bit he should read from Scrivener's Moon, and all I could think was, um, Momo really liked the mammoths. Which fortunately links to the fabulously mind-bending first chapter, featuring a rescue of Fever Crumb by hunters riding mammoths. (You can read Philip's account of the evening here.)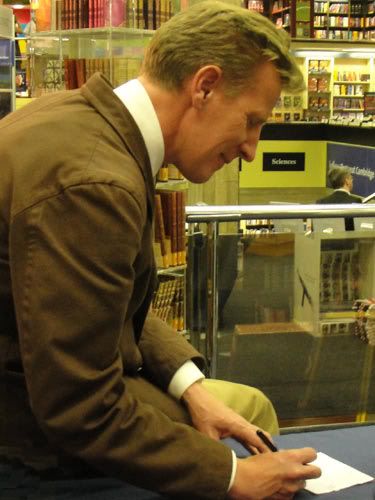 Earlier this week, I'd started reading Blood Red Road by UK-based Canadian Moira Young, who used to be an actor and an opera singer, but who's recently turned her hand to writing. We're both published by Scholastic UK, so I'm looking forward to seeing her at more festivals and things.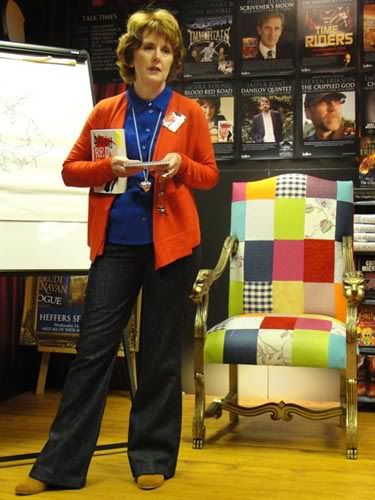 Here's Moira reading from Blood Red Road.
I lived in Moscow for a couple years, back in the '90s and studied Russian lit for my degree, so I'm always partial to books with Russian settings. Jasper Kent gave a good talk and made his books about Russian history – with vampires – sound intriguing. I might pick up some books from The Danilov Quintet at some point. (Anyone here read them?)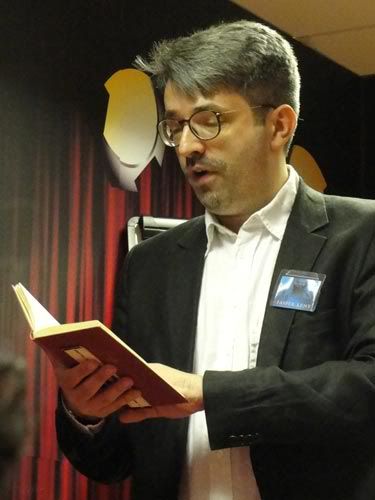 Here's Australian writer Trudi Canavan with her latest book, The Road. Philip and I were struck by just how much she looked like one of our favourite writers, Geraldine McCaughrean. Perhaps they can post as each other's body doubles when there are more Australian and UK tours to be done. (Oh! And shameless plug: you can hear me interview Geraldine and Candy Gourlay at the Hay Festival; details here.)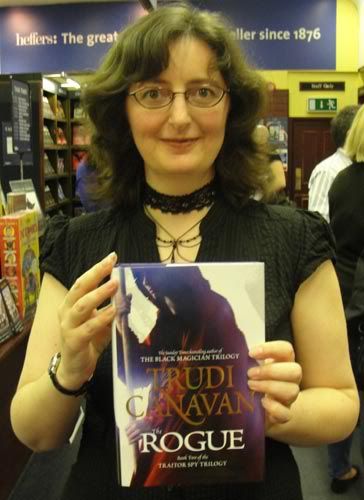 China Miéville teaches creative writing at Warwick University and gave some helpful insights into writing. He said that, while everyone has a different writing procress, he tends to plan out the structure of his novels in detail; when it comes to writing, he can have a chart on the wall and think, right, today I just need to right the scene where this character meets this character, and it should take about 600 words. He says it's much less daunting than sitting down and trying to write a whole novel with very little preparation. When his students argue that lots of planning can take away from the writing feeling fresh and spontaneous, he argues that he'd rather have a novel from them that was finished, and possibly slightly less fresh than a novel that never went beyond a few chapters because it ran out of steam when the person didn't know what to write about.
I had a great surprise at the dinner afterward, when I was sitting next to someone who turned out to be the writer of a book we'd read in my book club, Romanitas. Her name is Sophie McDougall (pronounced 'so-FYE-ah') and she made my jaw drop in happy amazement when she started talking about her alternative history of Rome. That woman has thought it through. She knew what would happen with Persia, India, the Americas (I think China ended up owning South America and Rome had North America, or possibly the reverse, but it was all fascinating.)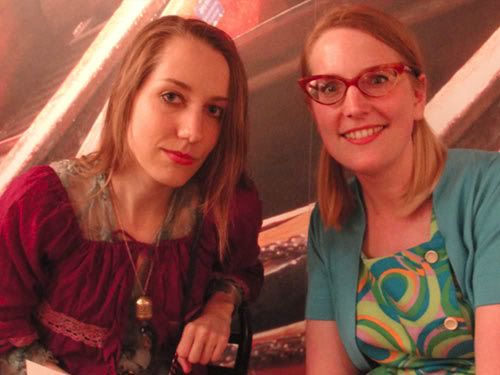 We also had a reading by Canadian writer Steven Erikson, who's written ten very hefty books in a series called the Malazan Book of the Fallen. I haven't heard of them, but quite a few people in the audience had read them all.
Here's our fab Scholastic publicist, Alex Richardson. I think Alex is the most organised person on the whole planet.
Here's Chris Riddell doing his marvellous live drawing with his Pentel brush pen.
And some oratorial fireworks from the fab duo, who were giving their plug for The Immortals, the final installment in the hugely popular Edge Chronicles.
On a more personal note, my friend Bridget whipped up a fabulous lunch and we had a marvelous time lounging about in her garden.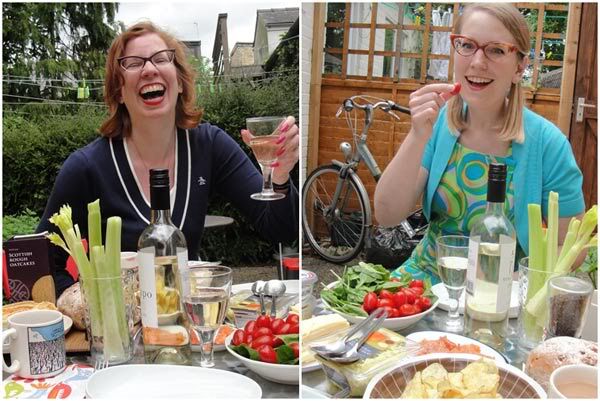 I'm sad that I didn't manage to get a photo of Emma Vieceli – Chris and Paul needed to get to the bookshop and Emma took them along before I could manage to snap her. But here are super-fab Dave and Bridget.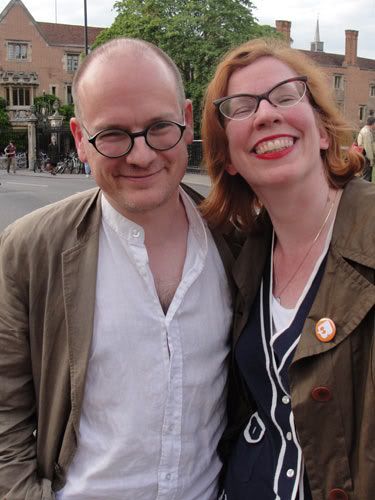 And another photo, just as the aliens were landing.
Okay, and one more of China with that fab tatoo, just because. (And I don't even generally like tattoos.)
Thanks so much to the staff at Heffers for hosting this great event! The lovely children's section is huge, do go have a look when you're next in Cambridge.