book club: all fall down by sally nicholls
This weekend our book club discussed All Fall Down by the amazing Sally Nicholls! (You might have seen my earlier blog posts about her Ways to Live Forever book and film.)
Our book club's very informal, people still come when they haven't even read the book, but we had a pretty good reading uptake this time. Here's some feedback: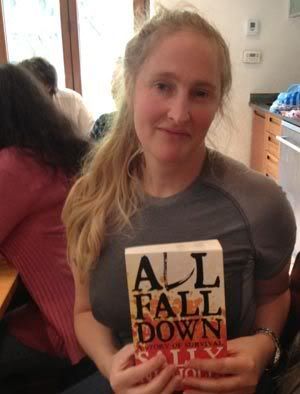 Heather, illustrator: I was pretty sure everyone was going to die, but I still wanted to know what was going to happen.

Alice, scientist and small craft business owner: EXCELLENT PIG ACTION.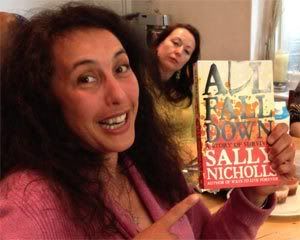 Nicole Young, actor (who didn't actually read the book): It really is aptly titled. You'll be hooked right until they all fall down.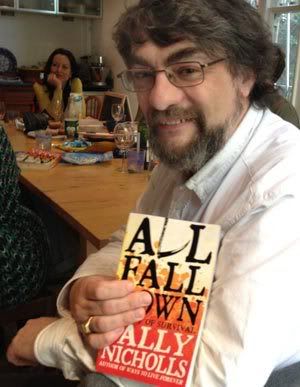 Nick, tax man:Good historical novel for young teens and adults.
Sarah: What was your favourite historical bit?
Nick [intones dramatically]: …DEATH.

Dan, scientist (who only managed to read 45 pages): It has a very good start.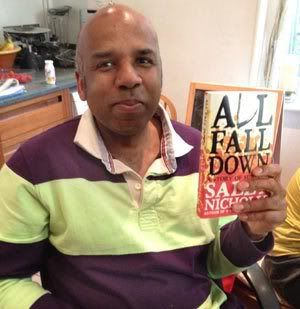 Sebastian, music teacher: And it has a very good ending, too.
I found the book very gripping, particularly the middle part when people are dropping like flies as the Black Death hits the narrator girl's village. There's a great scene when she has to give Last Rights to a priest because there's no one else around to do it. I loved the way the book showed how the crisis changed everything in society: women took on roles they never would have been allowed to fill before, land switched hands, sometimes several times in a matter of weeks. In terms of mood, the book fell somewhere between two other books we'd read in book club: it wasn't quite as light as Tuesday's War by David Fiddimore, when everyone thought they were going to die and started going at it like rabbits, but it didn't have the dead bleakness of The Road by Cormac McCarthy. I suppose the heroine is more like Daisy in How We Live Now by Meg Rosoff; Isabel, a village farm girl, just gets on because she has to, and tries to keep what's left of her family alive. Both struggle with mental health issues: Daisy with anorexia and Isabel with post-traumatic shock and depression. It's a Young Adult book, but the story works well for adult readers, too, and offers thoughtful insight into real life during the time of the plague. (Interestingly, our group has picked another YA book for our next read: The Hunger Games by Suzanne Collins.)
Hurrah for Sally! I've read Ways To Live Forever, Season of Secrets and All Fall Down. Can't wait to see what she comes up with next! If you're looking for someone to do writing events for schools and such, do get in touch with Sally, she's brilliant.