bishop's stortford picture book award 2011
Yesterday morning I met Giles Andreae at Liverpool Street Station and we took the train up to Bishop's Stortford, where last year our book Morris the Mankiest Monster won the Bishop's Stortford Picture Book Award. (I blogged about last year here and here.)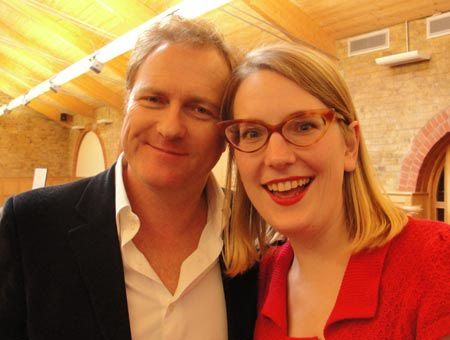 Giles Andreae & Sarah McIntyre
We both led a couple workshops at Bishop's Stortford College, then Giles presented this year's award. But first he gave gave a talk and told a few of his own stories, including one which I filmed here, The Knitting Gorilla:
Lots of writer and illustrators came up for the award ceremony, including Gillian Rogerson! Our book, You Can't Eat a Princess was shortlisted, but unfortunately this year only came in fourth place. (Still, not bad, there was a huge long list.) Here she is, having come down from Leeds, with Scholastic editor Ellie Parkin. Ellie's originally from the north like Gillian, but talks like a Londoner… until the two of them get together; I couldn't help grinning as Ellie's voice starting lilting all over the place.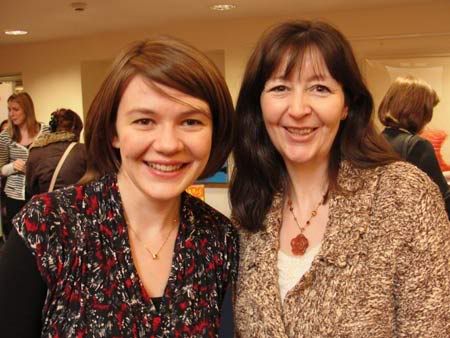 Ellie Parkin & Gillian Rogerson
And the winner this year was Dave by illustrator Liz Pichon (who's also a writer) and writer Sue Hendra (who's also an illustrator). Their book stars a fat ginger cat who gets stuck in a cat flap until he eats so many baked beans that he manages to blast his way out by farting. (Following on from last year's choice, I can see humour involving bodily functions goes down very well in Bishop's Stortford!)

Official photo shoot with Giles, Liz, teacher and artist Simon Bailey with his lovely commemorative painting, and Sue. (Here's the painting he did of me and Anthony Browne last year!)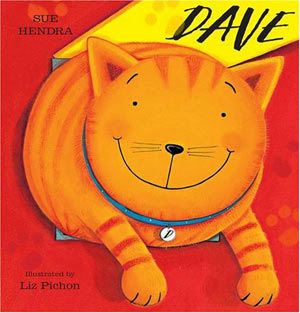 Congratulations, Sue and Liz!
Besides the two comics workshops I led, the school's lunchtime book club invited me to come hear their discussion about Vern and Lettuce. I didn't have to plan anything; about fifty kids sat around me and spent half an hour telling me how much they liked my book and why. It was amazing! I think did a fair bit of blushing, but it was marvelous getting such in-depth feedback. I came out with my head two hat sizes larger. I'm hoping some of them might contribute pages to Vern and Lettuce's online magazine, The Pickle. The next book they're discussing is Tall Story by Candy Gourlay, and they're very much hoping she'll come visit.
Other creators in attendance included writer and illustrator Rebecca Elliot, author of Milo's Pet Egg.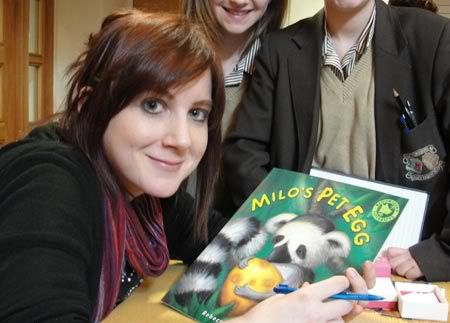 Rebecca Elliot
I sat between Gillian and Joe Berger, writer & illustrator of Bridget Fidget.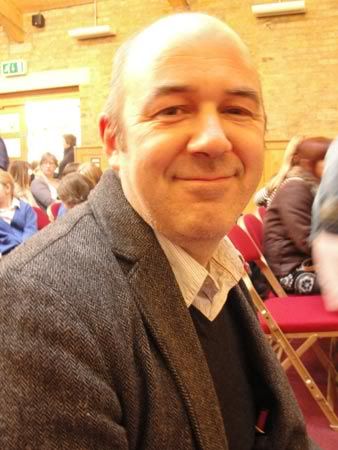 Joe Berger
A big thanks to art teacher Emma Neville, who helped me with the comics workshops and super-organised festival coordinator Rosie Pike.

Emma Neville, Giles, Rosie Pike
I was rather enamoured with the big toaster pumping out mountains of toast in the staff room. And we had a nice big sticky pudding with custard at lunchtime, I love school dinners.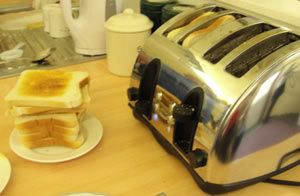 And another big thanks to Marilyn and Simon Brocklehurst, booksellers at the remarkable Norfolk Children's Book Centre. (Marilyn also writes lots of reviews for The Bookseller.)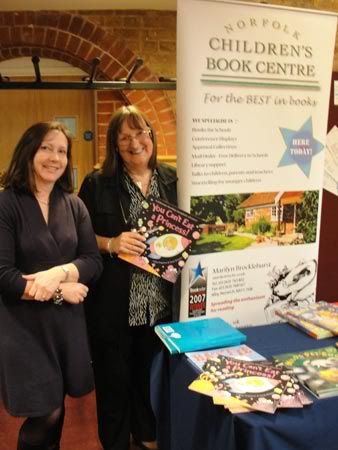 Librarian Andrea Lamyman and Marilyn Brocklehurst

Ellie Parkin, Gillian Rogerson, Sarah McIntyre
And here are some of the comics jams I did in the two workshops with the Year 5 kids. We had loads of fun! I'll try to post more of these comics soon. The images are a bit small, so I've written out the texts so you can decipher them.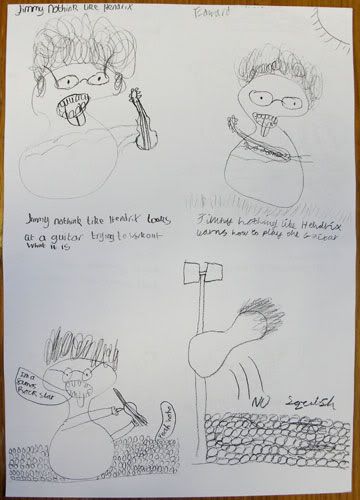 Jimmy Nothink Like Hendrix
Jimmy Nothink Like Hendrix looks at a guitar, trying to work out what it is
Jimmy Nothink like Hendrix learns how to play the guitar
I am a famous rock star!
Yeah whoo
No! [squish]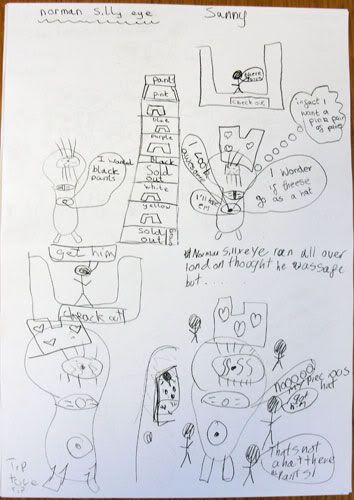 Norman Silly Eye
I wanted black pants
[at check out] They're yours.
I look awesome! I'll take em! I wonder if these go as a hat.
[check out person] Get him
Norman Silly Eye ran all over London, thought he was sage but…
Nooooo! My precious hat!
Got Him
That's not a hat there, it's pants!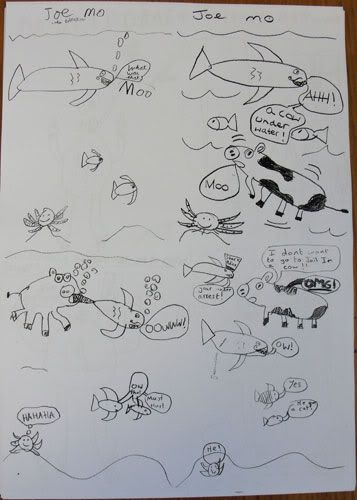 Joe Mo
What was that?
MOO
AHH! A cow under water!
MOO
OOWWW!
HA HA HA
Ow that must hurt
[shark police] You're under arrest!
I don't want to go to jail. I'm a cow!! OMG!
OW!
Yes
He got a cut!
He!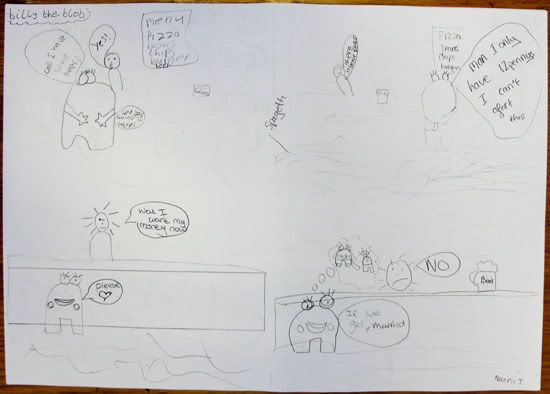 Billy the blob
Can I have some beer?
Yes!
[sign reads 'Get your Guinness here!']
There is your beer
Man, I only have 12 pennies. I can't afford this.
Well, I want my money now.
Please <3 If we get married NO
Bishop's Stortford College Festival of Literature link here.
Hey! You can read Issue 2 of online comics magazine Comical Animal now right here! It's jam-packed with fab family-friendly comics from top British creators! Edited by DFC colleague Jim Medway.