birdsong pencil roughs
Yesterday afternoon I sat on the roof in the sun with Viviane's tomato plants, reading a friend's freshly written novel and doing the pencils for the story I'm submitting for the Birdsong anthology. Here's the first page:
I'm very excited for this anthology; it's going to feature work by the fabulous Warwick Johnson Cadwell (one of Britain's best illustrators, I think. You can spot his editorial illustrations in The Guardian), Will Kirkby (chamonkee, a guy with humble Live Journal beginnings like me, but whose work is taking off amazingly), Manga whizz kid and co-editor with Will naniiebim, the remarkable David O'Connell (tozocomic: have you seen the latest installments of Tozo… romance!) and two people whose work I'm getting to know: shakino and rakugaking. All our work is due Sept 6, so you should be hearing news about the publication sometime fairly soon after that. (This self-publishing stuff has so much quicker of a turn-around than children's books…) I was only going to take two pages, but I found it was actually easier to tell my story in four pages, so Will and Naniiebim let me have two more.
My Glasgow Auntie took Stuart and me out for lunch on Saturday, and we had a lovely day wandering the streets of London. I had to take her for a pastry at Yauatcha in Soho after my tasty visit there the other day with Ellen and Myla, mmm. Stuart took the second photo on this pretty, cafe-lined, hidden road off Oxford Street, called St Christopher's Place.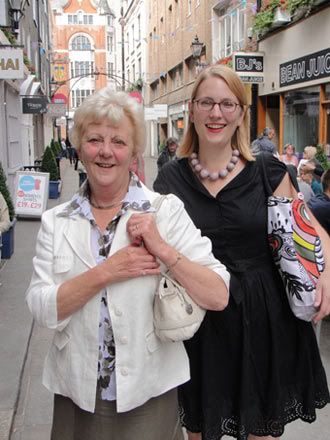 I just noticed some nice sketchbook drawings from my hometown, of Gasworks Park (thanks to Urban Sketchers). Ooh, have a look at their work on the Seattle section of the blog! I think this drawing's brilliant.