big cat nap
Here's a morning sketch I made. A bit of subconscious, a bit of just really wanting to draw a panther.
Which made it rather coincidentally amusing when Hayley Campbell said people used to call her Mowgli as a kid. Here's the Twitter conversation. (She's originally from Brisbane which, worryingly, is underwater right now.)
H: In other news, my Ma has seen a bunch of lost and confused peacocks on our street, someone else saw a bull shark in another street far away.
H: When I was a kid I used to go SWIMMING in floodwaters. No wonder I had to be so frequently de-wormed.
S: @hayleycampbelly Oh my, swimming in flood waters sounds FOUL! It's making me go a bit shivery with the foulness. Urk.
H: @jabberworks With SNAKES in! And probably POOS! In fairness I was always told not to. But I think that spurred me on.
S: @hayleycampbelly I think I might have been brave enough to take a blow-up raft out, and maybe accidentally fallen in. But not INTENTIONALLY!
H: @jabberworks I went everywhere in my underpants and had a bob my (also) 5-year-old neighbour styled. People called me Mowgli.
S: @hayleycampbelly Ha! My granny cut my almost-white hair in a sort of bob, too, it wasn't pretty. Thick pink and purple bifocals didn't help.
H: @jabberworks What a pair we would have made. I would have looked like some sort of barbarian child, you a miniature old lady.
S: @hayleycampbelly We'd have fought like cats and pushed each other into floodbanks, but it would've been a good laugh. #muddybarbarianoldlady
Followed by:
@AreSlinkysArt If @jabberworks and @hayleycampbelly had known each other as children… (see below)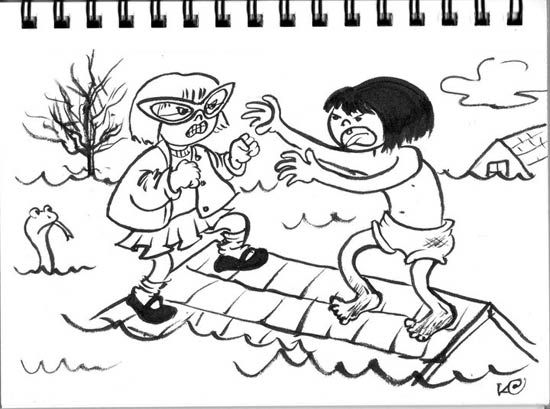 Drawing by Katrin L. Sayers, thanks for that! Here's a picture I did of the two of us as cowgirls, ages ago. Hayley's fun to draw.
After Matthew Murray at The Beat posted his interview with my fab publisher David Fickling, he published one with me. Here it is! Thanks, Matthew!
And remember the cut-out Vern and Lettuce tractor? Well, there's more cut-and-paste fun to be had over on Mo-Bot High Neill Cameron's blog! Go on, make a Mo-Bot! I'm hoping to make one and draw my own paintwork, 'cause Mo-Bots are all about customising.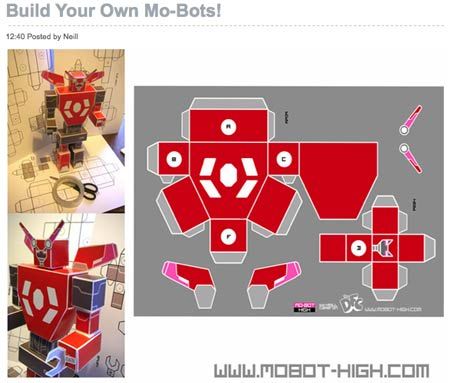 Other good news, Tom Spurgeon on the Comics Reporter writes that Drawn and Quarterly are going to publish a collection of Canadian Kate Beaton's work, coming out in hardcover this autumn! And Jonathan Cape are going to publish it in the UK, so a lot of people will be looking forward to that. If you haven't seen Kate's comics, they're brilliant. She makes funny stories about historical events, literary figures, the time she spent working in the office at an oil refinery in the middle of nowhere in Canada, and doing parodies of book covers, such as a series I read in entirety as a teenager called Nancy Drew. I hope she'll come to the UK as part of her book tour! She came to the UK Web & Mini Comix Thing a couple years ago, but she was mobbed by fans, so I only got to chat with her briefly.