back from bologna
I came back from Italy last night to find Stuart had made me a supper of spaghetti bolognaise, which I thought was incredibly sweet of him, and also a slightly amusing choice of food.
Where to start? So much happened in four days! Here are some snaps of my lovely roomies, Candy Gourlay, Margaret Carey and Anne-Marie Perks. We had a great time running around Bologna, the SCBWI conference and the book fair until our feet were worn down to little nubbins.
One of my most interesting finds was when I ran into Nikki Gamble from WriteAway, who pulled me over to a booth in the back featuring the International Youth Library, this amazing museum and collection of children's books located in a gorgeous castle-like building in Munich. They're archiving thousands of the world's best picture books every year. I can't believe I haven't heard of it already, and we started scheming about a way to get over there to visit.
Nikki introduced me to the writer and illustrator Chris Mould, who is a great guy and now I must go away and read lots of his books. (I mentioned meeting him to Margaret, and she told me her daughter's friend had been one of his first fans and had a shrine to him in her bedroom.) Here's a photo of Nikki and Chris while we were having coffee. I always thought I had a bit of a leg-up on coffee connoisseurship by coming from Seattle, but when I discovered the intense sludge you get when you order a regular coffee in Bologna, I realised that I am a complete Americano coffee wimp.

Booktrust announced the Big Picture list of Ten Best New Illustrators, which was well chosen: Alexis Deacon, Polly Dunbar (I reviewed one of her books), Lisa Evans, Emily Gravett, Mini Grey, Oliver Jeffers, David Lucas, Catherine Rayner, Joel Stewart and Vicky White. The presentation was a little strange, because they had lovely drinks and canapes and lots of interesting people seated in a room with a projector aimed at a screen, but then Michael Rosen just read out the list of names and it was all over in a flash and there wasn't a slideshow or anything. Embarrassingly, I ran into publicist Phil Perry in the airport and started squawking, "Wasn't that the strangest thing about the Booktrust presentation?", only to be hurridly hushed by Margaret, my constant guardian angel of diplomacy, who had spotted the head of Booktrust sitting ten feet away from us. Oops.
I only brought home two books from the fair this time(probably a book fair record), including one by one of our SCBWI speakers, Marc Boutavant. He makes this French children's comic about a little blue donkey called 'Ariol' and his friends, and we got to see a little bit of the newly animated version for television, which looked very funny.
I finally got to spend some time with the charming Leonard Marcus, who writes loads about children's books and whose name kept popping up whenever I did web searches for my college research projects. And before I went to Bologna, two friends who couldn't go to the fair asked for photos of their books at the stands, so here's one of three different books on display there by Layn Marlow and another book by Sue Eves.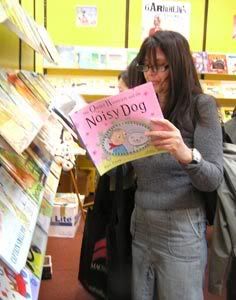 And I only just found out about it after I got back and checked my e-mails, but at the fair Egmont announced they will launch publications of Garen Ewing's adventure comic The Rainbow Orchid in three volumes, which is exciting news. And I didn't get a photo of it, but Scholastic were displaying a big poster for the upcoming launch of Sally Nicholls' second novel, 'The Midnight Hunter'. Hooray, Layn, Sue, Garen and Sally!