B is for belgium is for books
Whenever I go to Brussels, I always go nuts over the French-language picture books and comics. This trip was no exception!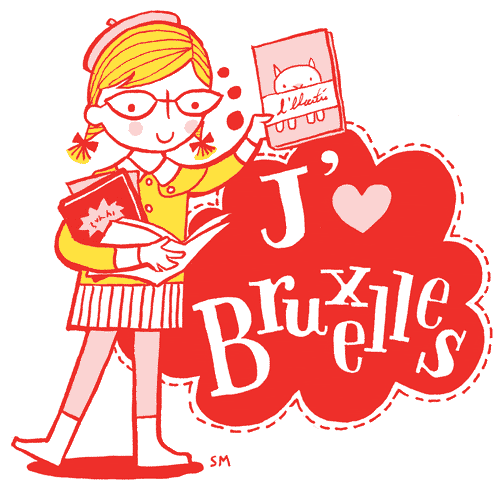 My parents, Stuart and I stayed with our friends Mags and Manoëlle, and the first morning, I volunteered for breakfast duty. Which means going down to the local beautiful patisserie and buying pastries for everyone, then nipping across the road to buy a copy of the weekly comics magazine, Spirou.
It was my parents' first time to Brussels, so we showed them around the Grand Place (pronounced 'grahn plass'), which fortunately is very close to my favourite bookshop! It's Tropismes, and you can find it in the gorgeous Galerie des Princes. And I was very pleased to see one of Alex T. Smith's books on display! His 'Claude' turns out to be a 'Léon' in French. The new name suits him well! (Here's Claude on Twitter).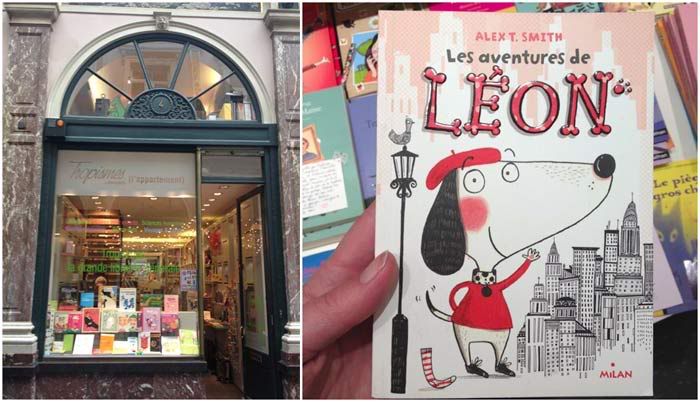 And here's what I found this time! I'll give you a peek into a few of them.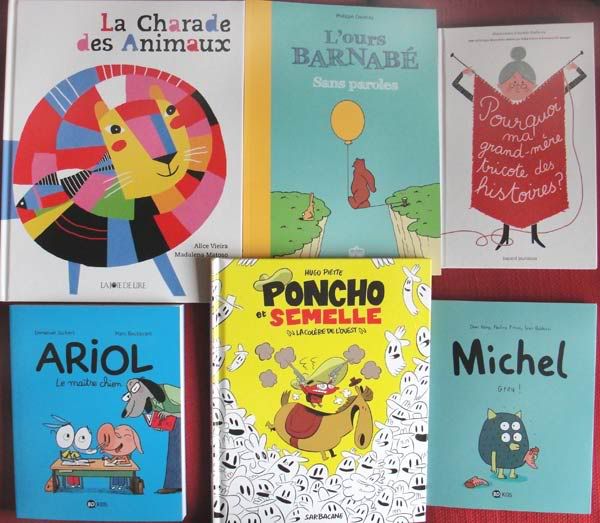 My studio mate Gary Northfield first introduced me to the Poncho & Semelle books by Hugo Piette. They're outrageously funny, completely madcap, but the drawing and colours are almost painfully beautiful. Real eye candy. (Does anyone know if any of the books are translated into English? If they aren't, they really ought to be.)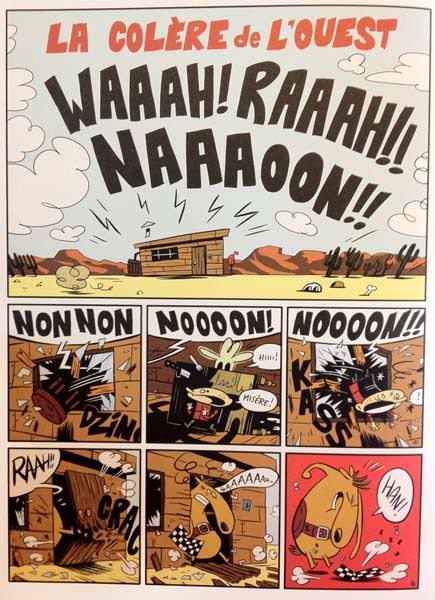 And more eye candy, Emmanuel Guibert and Marc Boutavant's Ariol books. They have a lovely gentle atmosphere, with a humourous, well-observed sense of what kids are like when they're playing. I first met Marc Boutavant at the SCBWI Bologna conference in 2008, and Emmanuel Guibert very briefly at the French Institute the same year.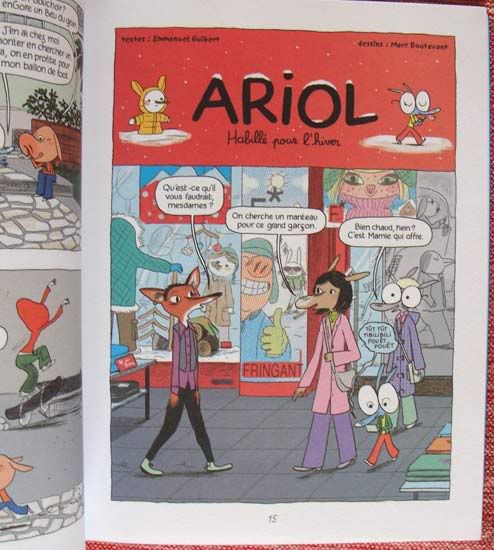 Ariol's now a cartoon on television and you can see lots of clips on YouTube. Here's one with English subtitles:
I'd never heard of L'ours Barnabé (Barnaby the Bear) by Philippe Coudray before, but the little wordless comics made me laugh.
You'd think that, being so central, the Galerie des Princes would be hopelessly touristy, but Mags and Manoëlle knew of a brasserie just across the corridor, Mokafe, and we had an excellent lunch.
We were walking along one of the main roads near the Grand Place and saw a little archway entry we'd never noticed before. And when we went through, it turned out to be a gorgeous gallery with a whole collection of wonderful bookshops!
It's called the Galerie Bortier, and in a shop that sells mostly books for adults, I found a box of children's stuff with treasure in it: two volumes by Alain Grée from 1965 and 1969: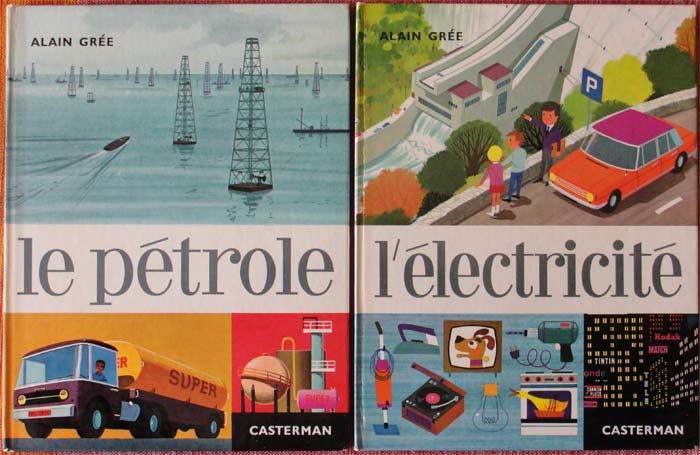 Grée's colour palettes and use of clear, simple shapes instead of line are amazing, and his characters are very cute.
You couldn't get a book like Le Pétrole these days. It's a joyful book about the wonders of oil, oil drilling, all the amazing things we can do with oil, and a praise to the earth for giving us endless quantities of it.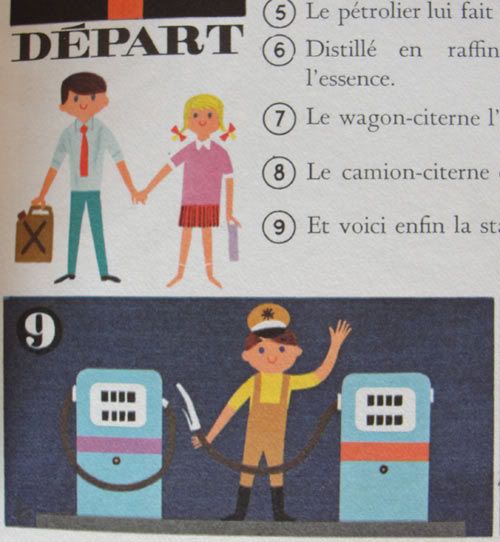 Reading it makes me quite nostalgic, like Alexander in the film Goodbye Lenin, when he's trying to recreate for his mother (but also for himself) the space-age optimism of the German Democratic Republic. (Synopsis here.)
Here's a beautiful oil refinery:
Isn't this the most fabulous illustration? So modern! So cosy!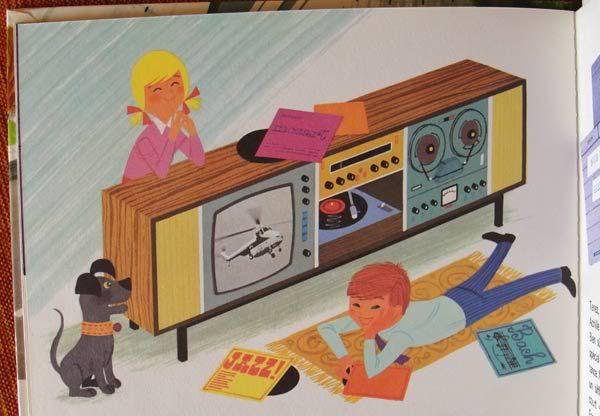 And look at the lovely way Grée has simplified the complicated lighting structure in this film studio.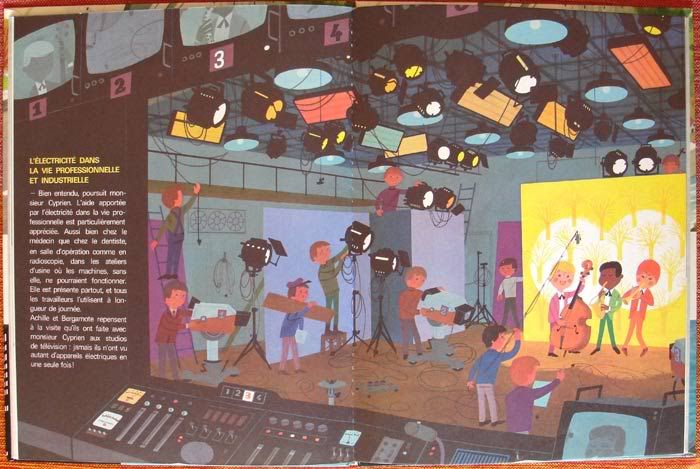 I was all aglow after finding these books, and a few doorways further along in the galerie, I saw a display of old medieval-themed comics. What is this? The five other people with me all groaned. Not ANOTHER bookshop! Just one more, oh, come on… (I am a rather irritating person to travel with, if you haven't guessed that already.)
Inside the shop/gallery space, I met its lovely manager and curator, Philippe Capart. He's an storyboard artist with Studio Arf Arf, but he's set up La Crypte Tonique, which is both a printed magazine and an exhibition of the collection of a man named Michel Deligne, a 'cow-boy pionnier' of comics. For each edition of the magazine, Capart selects a theme from Deligne's collection, prints samples and articles in the magazine, then displays them at the gallery.
He calls Deligne the 'cow-boy pionnier' of comics, and I caught a glimpse of why this is, when Capart showed me this photo of the man in front of his Brussels shop where he sold both comics and guns. A real character. (That's Capart's drawing of Deligne on the front cover of the magazine he's holding.)
La Crypte Tonique was full of its own curiosities. I only had a brief look (must return!) but here you can see La Bête est Morte! by Edmond-François Calvo. And here's Capart showing us an old Catholic newspaper with comics and religious articles. If you look at the Steve Canyon comic, you can see a flash with nothing in it, where he says the editors censored the kissing scene, or whatever was happening there.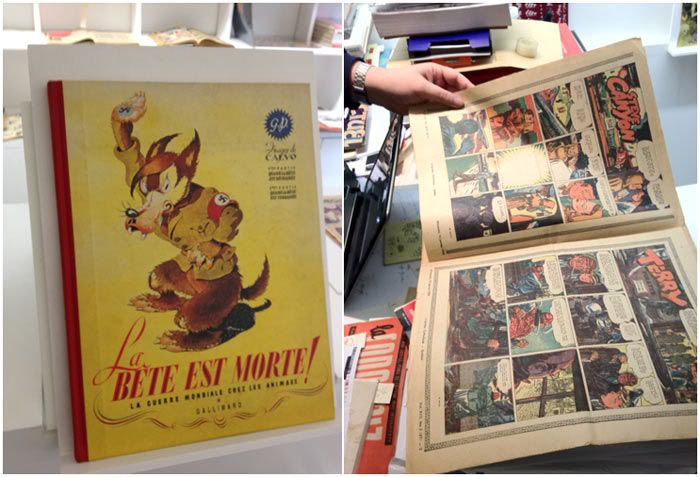 If you're ever in Brussels, do be sure to stop by the Galerie Bortier. Here's another beautiful shop, Genicot: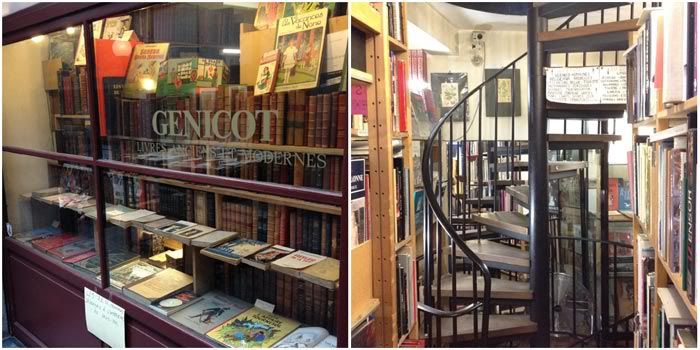 Genicot had some lovely old children's books on display.
And here we are, back home with Mags and Manoëlle, our marvelous hosts. The sketch I made on the left is Mags trying to work out the best way to get into the city centre since the whole city's transport was on strike. Tricky, but we managed to get there by car and two bicycles. And the photo on the right is us having raclette for dinner, a Swiss do-it-yourself cheesy meal, a bit like fondue, but with a gril, little pans and wooden scrapers.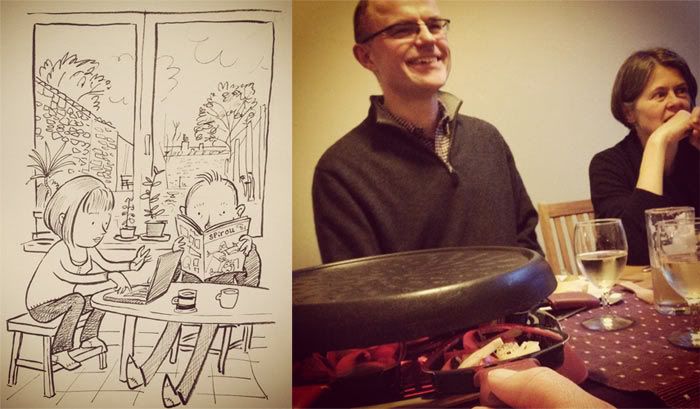 Thanks so much to our friends for hosting us!! After Brussels, we took the train to Amsterdam (but I'll tell you about that in another blog post).