another sarah mcintyre pops up from the bluebells!
I swear I didn't plan this, but when Stuart and I went for a hike in the Kent countryside on Friday, the footpath took us right through someone's garden. And that someone just happened to have her business sign on display. And that person also just happened to be pulling up the driveway in her car. Hurrah! What were the chances of that? I got to meet Sarah McIntyre, Therapist! I've never met another Sarah McIntyre before.
And Sarah McIntyre is rather fabulous! We are thinking of looking up other Sarah McIntyres near London and having a party. Kind of like the Sarah Party, but more specific.
I was hoping the warm weather might mean the bluebells were coming out early, and I wasn't disappointed. Have a look at these! I think English bluebells might be one of my most favourite things in the world. You're hiking and all of a sudden you come to a shady woodland glade, and suddenly it's like a wizard has cast a shimmering purple mist over the ground.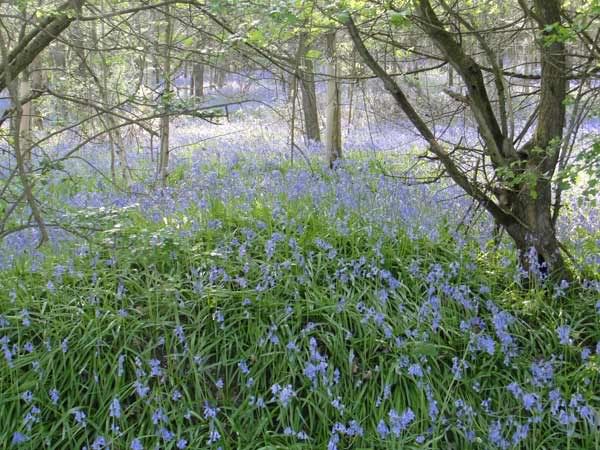 At one point, we had an apple orchard on one side of the path, with the most fragrant blossoms you can imagine, and a sea of bluebells on the other side and, well, it actually made me a bit teary, it was so amazing. If you live in England and haven't gone out to see the bluebells, GO NOW! You'll be so glad you did.
Our path also led us by a National Trust property called Ightham Mote (pronounced 'Item Moat'). It's kind of pricey to go in (£10.40 for adults) so we skipped it this time and just had tea in the tea room, but it's a lovely building, even from the outside.

One of the cool things about England is its Ordnance Survey Maps, which mark out every farm and practically every public footpath, all in the same format, with large scale maps (Land Ranger) and small scale maps (Explorer – which actually marks individual farm buildings). It's such a great, inexpensive way to spend a day out. You just hop on a train, ride for half an hour or so, then hike from one train station to another, or do a loop. And there's usually a handy pub near the train station (also marked with a blue beer mug on the map). And British country pubs are usually fine about letting your kids come in with you (if you managed to drag them away from their Nintendos).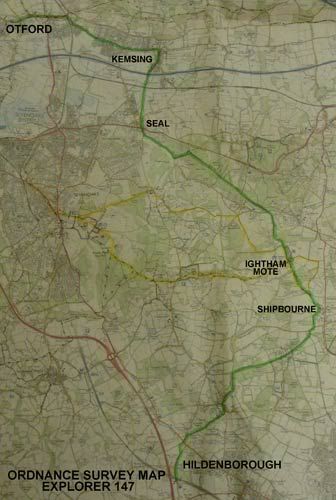 I love Bill Bryson's book about hiking the Appalachian Trail, A Walk in the Woods, and in it, he writes lots about the amazing scenery, but also complains about how the American trail always keeps its hikers in a corridor of forest, so they always feel they're in the wilderness. Bryson reflects that in England, it's a bit nicer because you get lots of variety of scenery – you walk through a forest, through a village, through a farmer's field, through a pasture, through a pub, over a river – and it's much more interesting. I agree, hiking in England is about as good as it gets. Especially when it's not raining.
This sign made me laugh. I've been jet-lagged out of my skull for the past few days, and I first read it as Danger: Sleep Quarry. I like how the little man isn't even putting his arms above his head, he really has fallen asleep. There might be a whole pit down there full of over-tired self-employed people.
Fab baboon gargoyle on the church in Sale. (Or, I think it was Sale.)
We took a train from Peckham Rye station to Otford station, and during the first part of the hike, we were walking along a ridge with pine trees and hot, dusty soil, and in places, it smelled exactly like northern California.
Sometimes the path leads on to roads, but they're lined with beautiful trees and look like this: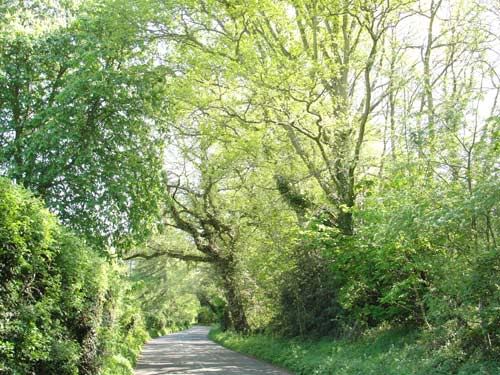 Kent is famous for its oast houses, originally used for drying hops, but often converted into houses. (I've heard Dave McKean lives in an oast house.)
Here's what the bluebells look like up close. They're very fragile and die almost instantly if you pick them.
We also saw bilberries, and I thought at first they were huckleberries, like the kind we used to pick up in the mountains near Seattle. (They're tiny; it takes a lot of huckleberries to make a pie.)
More bluebells:
Yeah, I got pretty excited.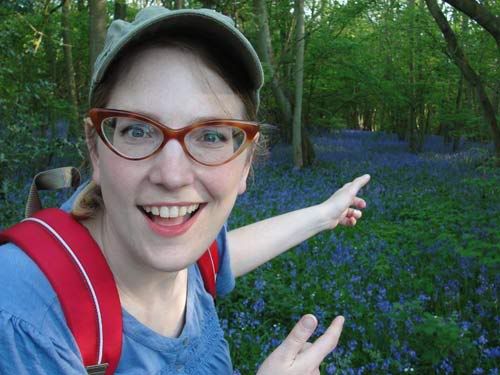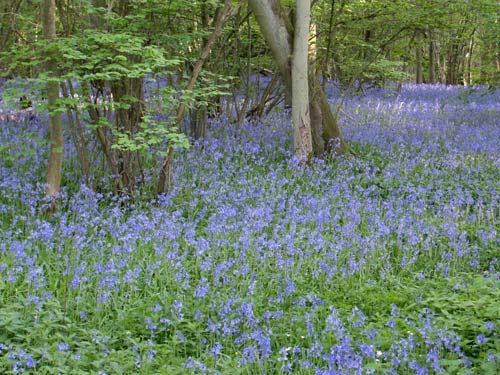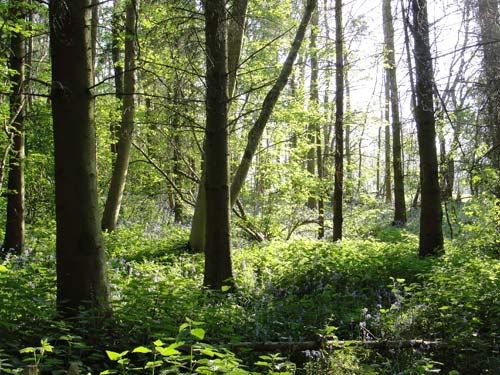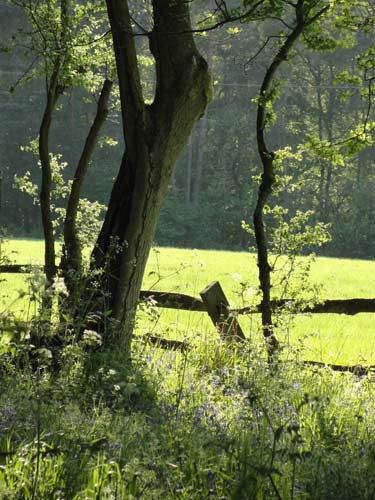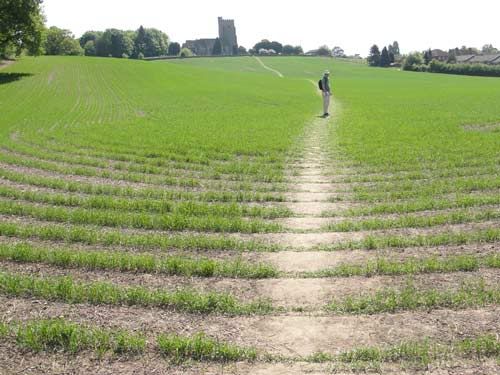 Ightham Mote has great chimneys.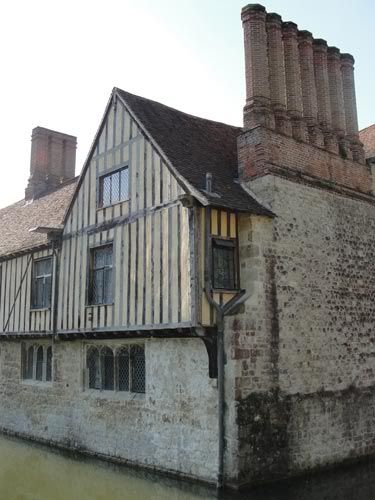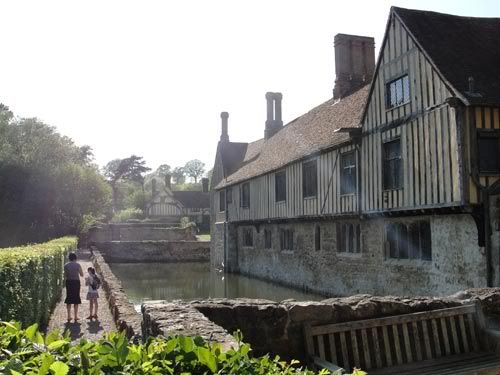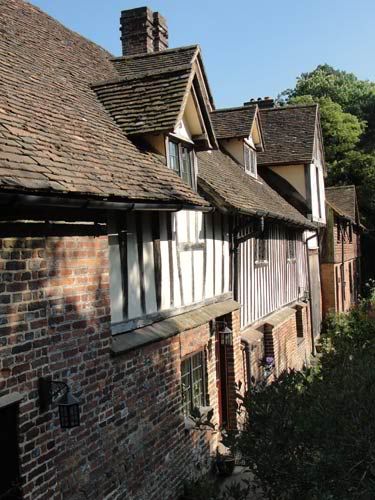 It's interesting reading some of the gravestones in the churchyards. Stuart had to tell me about the Moorgate Tube disaster, I hadn't heard of it.
I think we flushed out about six pheasants on our walk.
A lot of the villages look like something out of the film Hot Fuzz. I think this one is Kemsing.
We were lucky, there was an excellent Italian restaurant right next to Hildenborough station named Da Luca. We were a bit underdressed, but they let us clop through the restaurant in our hiking boots and we went out the back and sat on the outdoor terrace.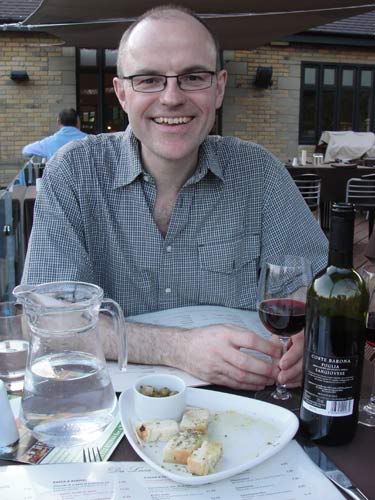 I totally recommend this day out if anyone's thinking they'd like to see some countryside. I think the walk was somewhere between eight and eleven miles, so you get a good workout, but you can take all day to do it and make lots of nice stops.