anniversary and all that
This weekend marked 11 years of Stuart deciding he could put up with this scatty illustrator moving her boxes and boxes of books to London and generally making his life messy and unpredictable. We celebrated with two of our best friends, Caroline and Eddie. (Eddie Smith ran the House gallery in Camberwell with me for six years.) The older of their two kids is my 'unofficial god daughter' (long story) and recently remarked to her mum as she was passing my house on the train: It's quite a good thing, isn't it, that I have Sarah making books for me?
I can't imagine a much better job, really, making books for a five-year-old. (Here was her specially tailored You Can't Eat a Princess! party). She actually stars in a book I've contracted with Scholatic, but my book schedules have been reshuffled several times this year, so that book won't be coming out for a few years yet.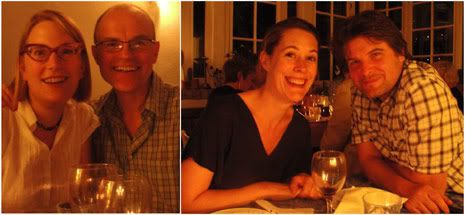 Events: I'm running two comics workshops this Friday at the Cartoon Museum! Kids ages 8-10, do come along. (And your parents can browse the museum's fab collection.)
Aug 6, Cartoon Museum (8-10 year-olds)
11-1pm : Comics Character Design: Hungry aliens, a manky monster, and a whole host of animals who live in a city tower block have all had starred in Sarah's books and comics. Meet some of Sarah's characters and learn her secret tips on how to create exciting characters that will drive your story forward. Then make your own book!
2-4pm: Comics Space Odyssey: Design your own aliens! Your own rockets! And what kind of planet would your alien live on? Take part in a mad comics session featuring googly eyes, webbed feet and way more tentacles than anyone ever thought possible. Learn comic making tips and create own space adventure comic.
I'm off to Bedfordshire today to run two comics workshops at Putnoe Library (11am) and Bedford Central Library (2pm), if you're around there, there might still be time to get in!