a peek at chris riddell's fabulous sketchbooks
A few weeks ago, I got an e-mail from Chris Riddell, asking if I'd like to visit him in Brighton, meet up with his writing partner, Paul Stewart, for lunch and then, something I'd always wanted to do, see his studio and have a nose around in his sketchbooks. (Would I! Oh, yes, please!) So last week, I hopped on a train and had the most brilliant day in Brighton. Here's a little doodle I made of the two of them. (Here's their joint website.)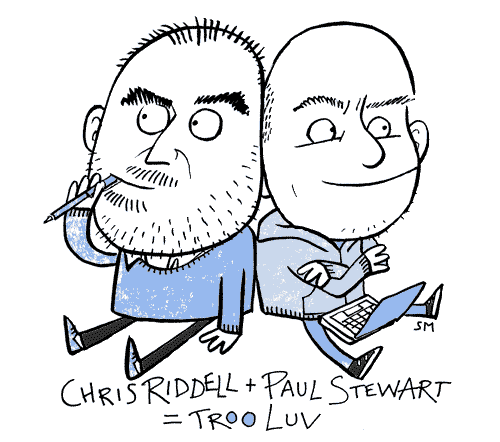 I think Chris Riddell's drawings were some of the first illustration work I really examined when I emigrated to Britain. I remember studying and drawing from one of his Observer political cartoons that the Cartoon Museum had on display, and admiring how interesting he could make the knuckles on a hand look. And more recently, I've become a fan of his Ottoline books, which the comics community would go crazy about if they saw them, but they're generally hidden away from comics people in the section of the bookshop dedicated to children's chapter books. (Go find them, comickers!)
Here we are in his local pub: Paul, Chris, and Chris's wife, printmaker and painter Jo Riddell.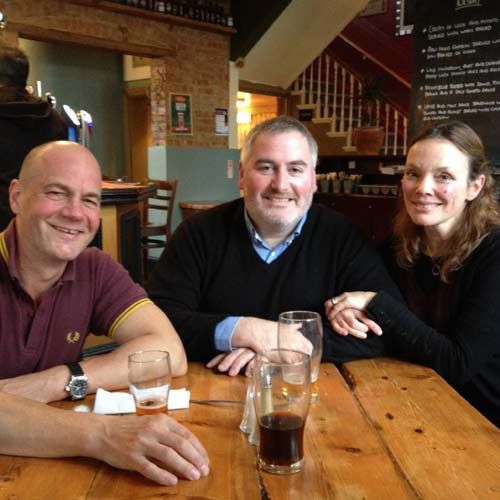 Chris and Jo have an amazing studio at the end of their garden, in an old barn they've converted into a very comfortable place to work. You can see a ladder in the back to the old hay loft, which makes for great storage space.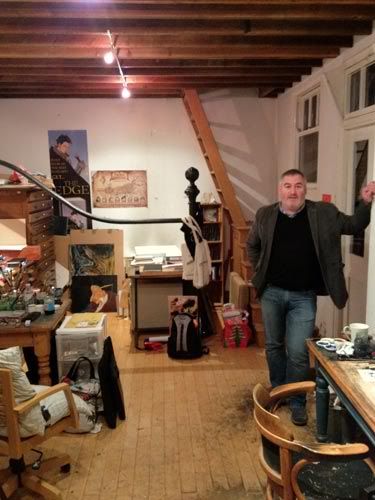 Here's Chris's desk, looking remarkably tidy, with his Dr Martins inks all lined up around the edges of his drawing board.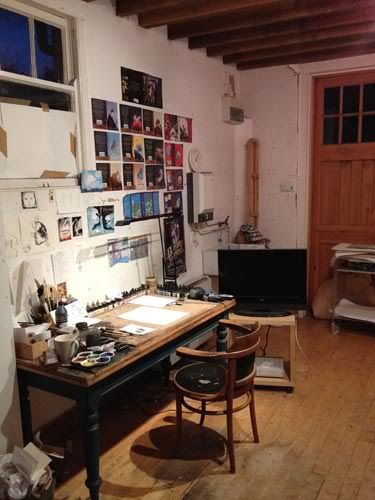 Here's a glimpse at some of the stuff I found on his desk: a cartoon, Sauron's Bedtime, which he drew for Issue Zero of the soon-to-be-launched Phoenix Comic (have you subscribed in time for the first issue?), and a very Steampunk-looking image for a new book he's working on.
When Chris pulled out his sketchbooks, it was total magic. I'd like to say I had deep, insightful conversations with him about them, but mostly it was just me making happy noises and spouting out things such as 'Oh! Oh, my! Oh! Ohmygoodnessthisisamazing!'
Chris doesn't just make little doodles or scribbled jottings, his sketchbooks look better than most people's final artwork, with beautiful diagrams and careful notes. It's like stepping into another world, looking at these, I could have spent months in that studio, just reading through sketchbooks.
Here are notes for a double-page spread layout with fold-open flaps. Chris doesn't do much digital work at all, everything's hand-drawn and hand-coloured.
And here's the final spread with flaps from his upcoming book, the sequel to his first Alienography book. Lots of funny, slightly twisted references to Star Wars, Star Trek and other things readers will have fun spotting.
Here's Jo's desk. She does her etching work at her other studio, but here's where she does some of her printmaking and painting work, and that day she had a half-finished woodcut on her desk.
I loved seeing Jo's prints hanging in the house, and you can get a peek at some of them over on her website. I could have happily taken a whole other day to find out about her work, it's lovely.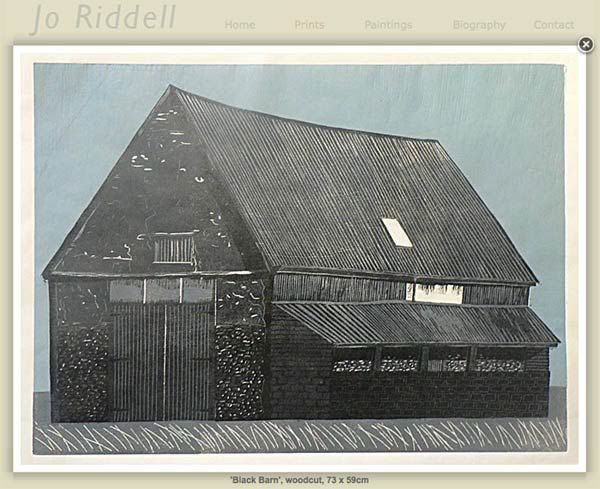 Some of Jo's painting space, and a bookshelf with a behatted life-mask of William Blake next to a Mr Incredible figure and a bunch of other toys.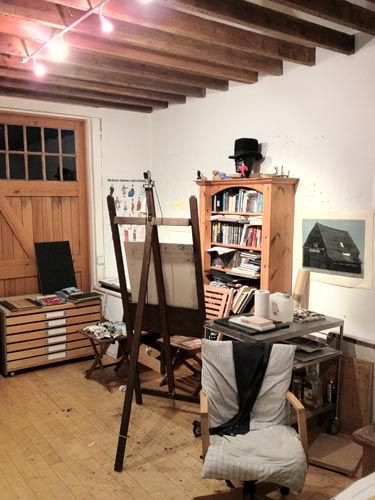 This sketchbook drawing made me laugh, an alien with his human suit hanging up in a wardrobe. (Sadly, Chris had to modify it slightly for the final image in the book because it's a bit rude.)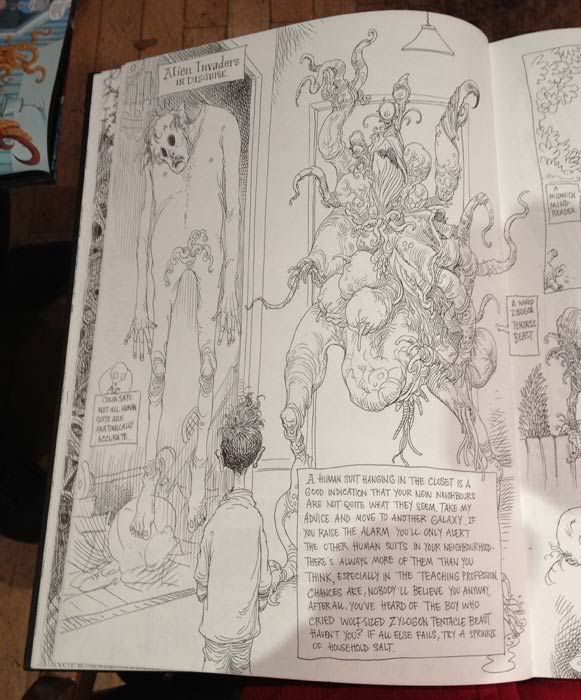 Here are the super-fab duo signing a couple books for me, which will be my snuggle-down-with-a-cup-of-tea Christmas reading.
The books are Wyrmeweald: Returner's Wealth, the first of a new frontier-fantasy trilogy, and The Immortals, which is billed as being the final book in the Edge Chronicles, but Chris and Paul assure me is a great starting point for anyone new to the books. (Look at the fab dedication drawing! And illustrated endpapers!)
Chris and Jo were heading back to London with me (I was going to James Turner's launch of Super Animal Adventure Squad and they were going to the Literary Review's Bad Sex in Fiction Awards, so while they were getting ready, Chris let me browse this sketchbook and take photos.
He calls it his Cairo Sketchbook; I think he said that his brother knows some place in Cairo that binds them fairly inexpensively; they're beautiful, and quite large.
So let's go on a little tour through it…
Most of Chris's work I see is fairly small and the linework tight and thin, and I love how, in the sketchbook, he's been playing with more variation of line, including some very thick strokes with a brush pen. It made me think that I really ought to do some larger sketchbook drawings, that it's good practice not to draw too small all the time. I remember one tutor at college in Pennsylvania getting annoyed at me for always drawing small, and forcing me to turn a three-inch drawing into a nine-foot-high charcoal drawing on several pieces of paper taped to the wall. Since the drawing (a Madonna's head) was larger than me, it actually made me get into the drawing and see it in much more of a sculptural kind of way. It might be a handy tip to shake things up, if you're finding your work is getting too tight.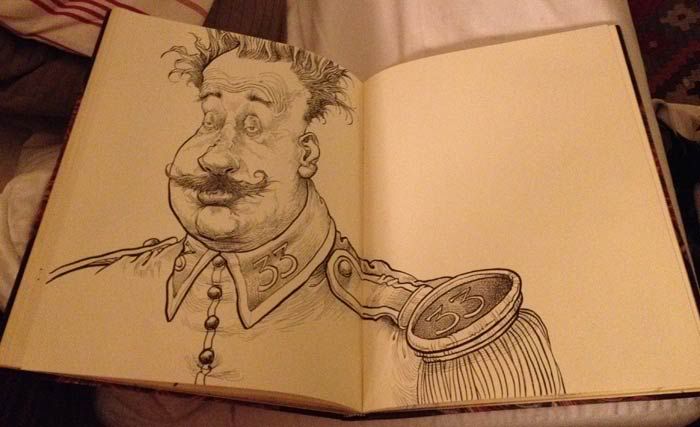 Chris is brilliant at tight details, though. He's a real expert at cross-hatching. I remember something funny Philip Reeve, another crosshatching expert, once said to me; that when he was doing long hours of illustration work, he used to come away from work and look around him, and everything in real life would look cross-hatched, too. He couldn't escape it.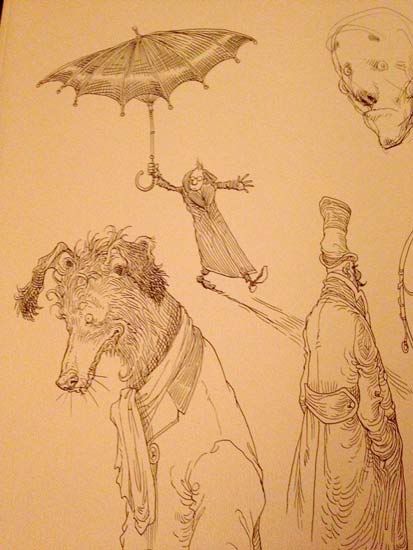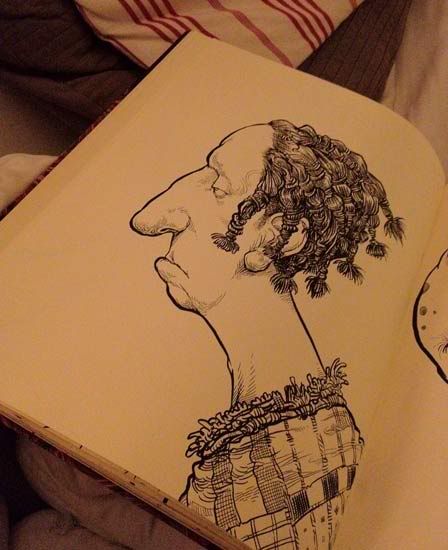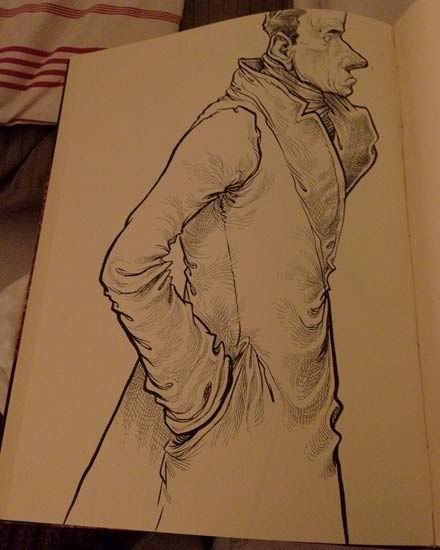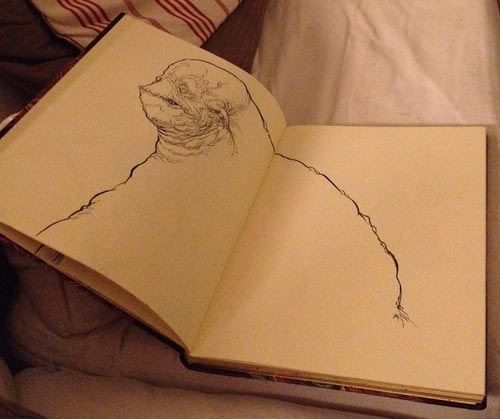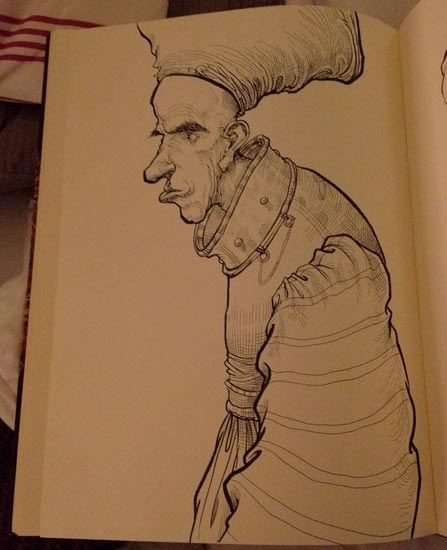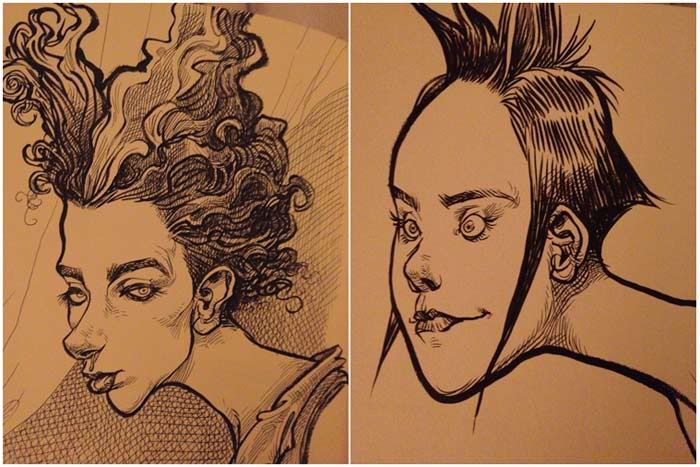 I was inspired to get out my brush pen and draw over two pages of my sketchbook. I drew Chris and his dog, Rosie, playing a bit with the brush pen kind of outline Chris uses. I'm not very happy with the drawing and the likeness isn't that good, but it was fun trying it out.
Thank you so much, Chris, Paul and Jo for a fabulous day out! If you don't know their work yet, you have a real treat in store for you.