a fish opera and shadow puppets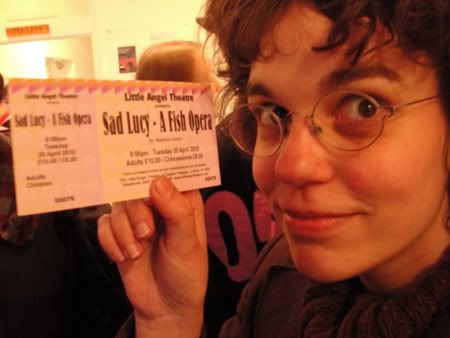 The day before yesterday, Viviane Schwarz, Alexis Deacon, Stuart, Ben Norland (who designed the brilliant cover for Viv's There Are Cats in this Book) and I met up at the Little Angel Theatre to see Matthew Robins, Tim Spooner and their band perform brilliant songs along with shadow puppers on an overhead projector and a visualiser. The lyrics in the second half of the show were written by the fabulous Viv Herself! And they included a hymn to sheep that we all stood up in our pews and sang (just like this).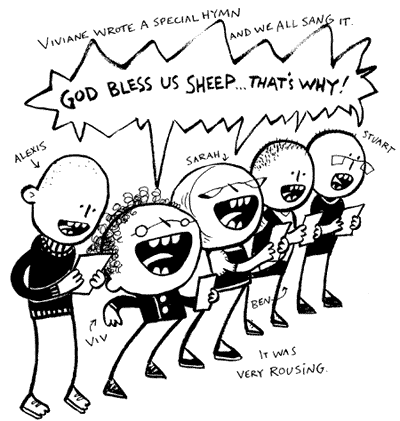 Here's Viv, Matthew and Tim: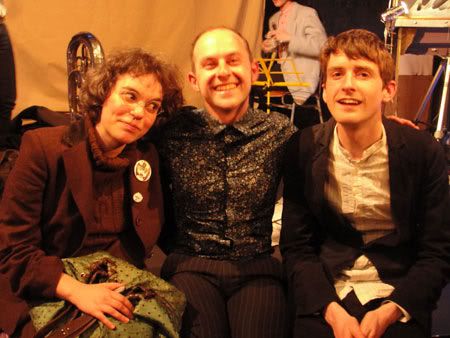 Here's one of the pieces Matthew sang, you can see him performing it here at a different venue:

And these are terrible photos, but you can kind of get a glimpse of their setup: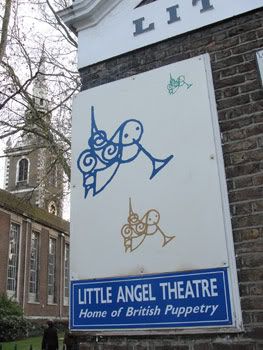 Even the trees were dancing outside!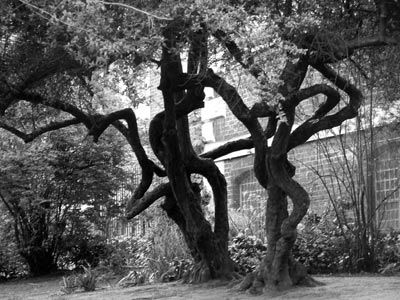 Keep an eye on Matthew's website for future events! (I think he's doing something soon at the Barbican.)
Come along to Hatfield this Saturday for UniComics, a brand-new comics festival that looks like it may turn into a brilliant annual event! I'm on a panel from 2-3:00 with Dave Shelton (the DFC Library's Good Dog, Bad Dog, Gary Northfield (Beano's Derek the Sheep, DFC's Little Cutie), Daniel Merlin Goodbrey and Douglas Noble called Creating Comics For Kids. It's such a brand-new panel that it's not even on the schedule yet, but it's totally happening, do come! And I'm leading a workshop from 11-12:00 called Hungry Aliens and Manky Monsters. The UniComics festival's already started today, here's the website! I'll have a table at the Unicon part of it and I still have a few copies of my Dear Diary mini comic, copies of the Birdsong anthology, You Can't Eat a Princess! and the few remaining rare copies of Morris the Mankiest Monster (which I've jealously guarded for this event because, once again, the publisher doesn't have any left).
This evening, my studio mate Ellen Lindner and I will be speaking on the radio with Val Phoenix in her programme Odd Girl Out on Optical Radio, live from 7pm tonight and again on Sunday from 1:00pm. You can listen online at OpticalRadio.net. (Not sure yet if it will be available to listen afterward.) Ellen and I haven't ever done a radio show together before, this should be good fun.