a few more studio shots
I've started posting some photos directly to my Tumblr page from my camera, but I'll post them here, too, so this blog is still where everything comes together.
Here's a shot I took of Vern (knitted by my studio mate, Ms Deadlyknitshade), while I was doing some character design for another book. He's getting insanely jealous, he just wants me to write stories about him.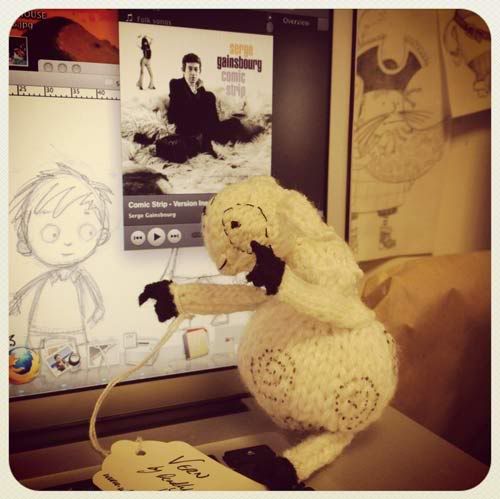 Here's our bedraggled studio guard sheep, Baarnaby:
Our creepy doorkeeper troll:
Our dirty studio squid, who can't even start to compete with Plarchie, but does his best to try to grab the spotlight by flashing his teeth a lot.
Oh, look! We have a new neighbour, Jimi Gherkin, who just set up studio in one of the courtyard container crates. He organises the Alternative Press Fair and does a lot to push the comics crowd forward.
And here are two visiting friends from Brussels, looking very busy at my desk. (Yes, I do use a hair dryer a lot when I'm painting, it hurries things along.)
And the best thing, Lauren's just posted this amazing video of our studio neighbourhood, made for Goldsmiths University. It really captures the flavour of our streets and you can see a lot of people we know, including Julia (the first person shown), who used to run a gallery in Camberwell with me and now runs the Bearspace art gallery and bookshop (where there used to be an old pub called The Bear), Rebecca (in the film still below), the daughter of Jayne, who ran our studio cafe, and who runs the Rail Carriage cafe, and Van, who runs Panda Panda cafe, and Grace, who works there. Go watch the video, over on our studio blog where Lauren's posted it! Thanks to the Deptford Dame for the video link!