a big hurrah for monkey nuts!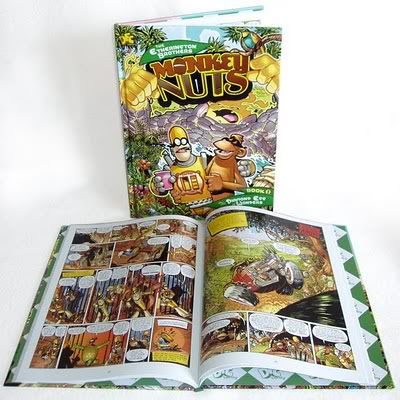 Congratulations to the Etherington Brothers on the publication of their marvelous comic, Monkey Nuts!!! Vern and Lettuce have a new brother comic in the DFC Library series that's going to blow your socks off with the zany escapades of a monkey, an robot (who sidelines as an espresso machine) and a coconut with anger-management issues.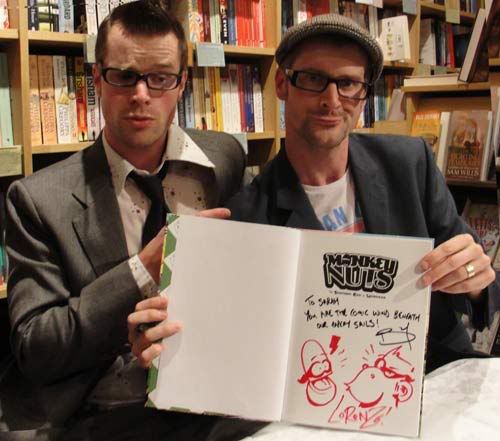 On Thursday night, a bunch of us celebrated the launch with publisher David Fickling in the top-notch indie Kew Bookshop. And the dashing, charismatic duo of Lorenzo and Robin never disappoint, particularly when you chuck the hard-core enthusiasm of our publisher into the mix: 'a jedi in a bow tie', as Robin puts it. Needless to say, we all have high hopes and big plans for the future of British comics. Things are finally HAPPENING! Exciting times. I filmed the speeches and wobbled badly once when John Aggs elbowed me in the ribs, but the jump at the end is where Robin decided he had to take out a merry expletive.

YouTube link

And here are William and Patrick Gunning, two of the DFC magazine's biggest fans, who still have their signed poster from the DFC's early days, and brought it along. It's great to see kids who still hold on with pride to their early DFC comics! (I should also mention Ben Bastow, in case he's reading this, who also showed up at a convention with his poster and tremendous enthusiasm.)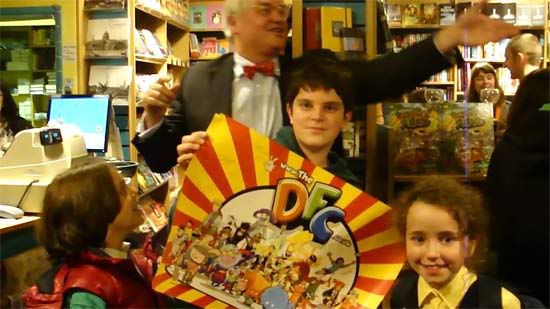 If you don't know Lorenzo's artwork, be sure to follow the remarkable drawings he's been posting over on our group blog, Super Comics Adventure Squad. And there's loads of goodness to be found on the Etheringtons' blog, here's their post about the launch. Robin packs the comics full of crazy antics and jokes, and Lorenzo creates a marvellous world with his intricate drawings. I was reading Monkey Nuts on the Tube and the woman next to me went almost bug-eyed when she saw the pages and got into an animated discussion with me about how amazing she thought they were, then almost missed her stop. They'll do that to you.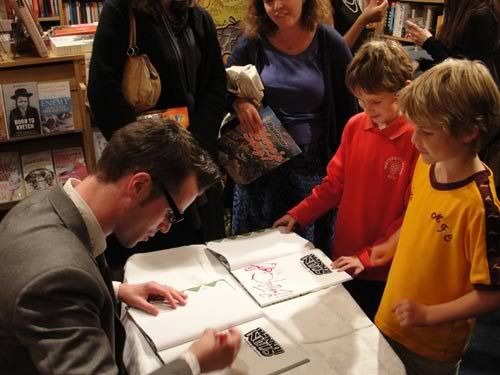 Here's our rep, Jodie Marsh from United Agents, who teamed up with the Etheringtons a couple weeks ago. Jodie knows talent when she sees it, and she and Rosemary Canter have swept up a good deal of the DFC contributors, including Jamie Smart, Gary Northfield and James Turner. I'm excited to see the Etheringtons' second comic book with David Fickling, Baggage, coming out next year.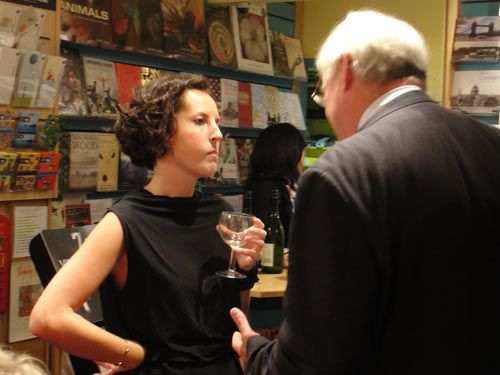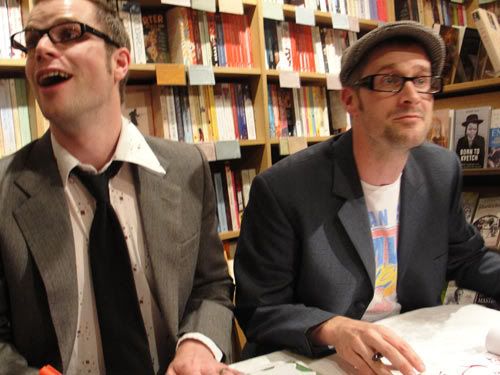 Keep an eye on Team DFC, you're going to see big things happen with these people. Start by reading all six of the published DFC Library books, then go have a look at Jamie Smart's new animation trailer, based on his DFC strip Fish-head Steve. Great stuff!